Holistic Pelvic Floor Therapy in NE Calgary: Wellness and Rehabilitation
Pelvic floor physiotherapy is an often-overlooked form of treatment for a variety of pelvic floor disorders. While the potential benefits can be significant, there may be some hesitation to seek out specialized care in NE Calgary. However, with the right approach and professional guidance, individuals can experience improved health and wellness through pelvic floor physiotherapy services in Calgary NE.
Today we will explain, why it is important to seek out personalized care from an experienced physiotherapist in NE Calgary, and how it can help address a range of pelvic floor issues. Through comprehensive assessments and targeted interventions, patients can restore strength and function to achieve their desired goals.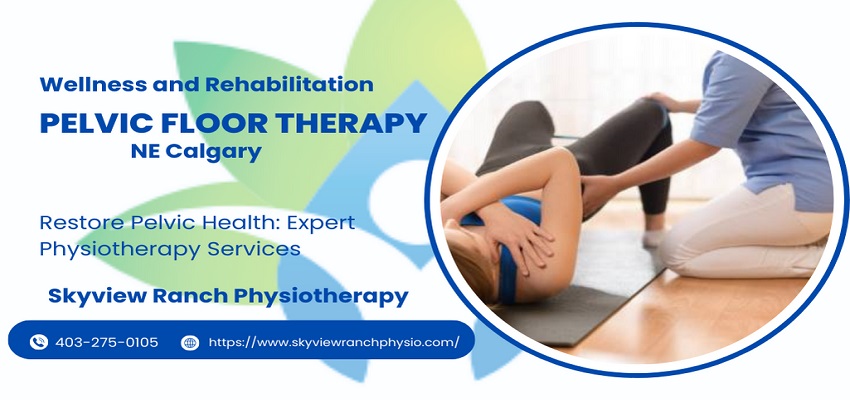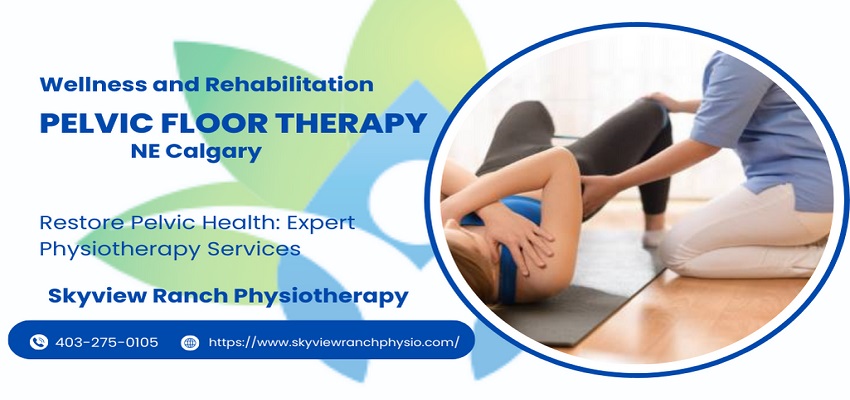 Expert Pelvic Floor Physiotherapy Services in NE Calgary: Restoring Strength and Wellness
Skyview Ranch Physiotherapy offers specialized expert pelvic floor therapy services in NE Calgary, allowing individuals to reclaim their strength and wellness through the use of cutting-edge treatments. These treatments focus on strengthening the muscles of the pelvic floor, which can be weakened due to factors such as childbirth or age-related issues.
Our experienced pelvic floor physiotherapists provide a comprehensive assessment of each patient's needs and develop an individualized treatment plan to restore strength, reduce pain, improve bladder and bowel control, and restore quality of life. We also provide education on proper posture and body mechanics for long-term success.
With state-of-the-art equipment and knowledgeable therapists, Skyview Ranch Physiotherapy is dedicated to helping individuals achieve optimal health outcomes with compassionate care.
Personalized Approach to Pelvic Floor Health: Discover the Benefits of Pelvic Physiotherapy in NE Calgary
At Skyview Ranch Physiotherapy NE Calgary clinic, we understand that each individual has unique goals and needs when it comes to their pelvic floor health. We offer a range of treatments tailored specifically to the needs of each patient, allowing them to achieve improved well-being and better overall quality of life.
Our expert team of pelvic floor physiotherapists is experienced in treating all kinds of pelvic floor issues from injury recovery and pain relief to postpartum rehabilitation. With our comprehensive assessment procedures, we can identify the underlying causes behind an issue and create an individualized treatment plan accordingly. This allows us to provide highly effective solutions that target your specific problem areas.
We believe that everybody deserves access to quality healthcare which is why we strive to make our services as accessible as possible for everyone living in NE Calgary.
Experience the benefits of physiotherapy today – contact us at Skyview Ranch Physiotherapy for more information about our personalized approach to pelvic floor health!
Addressing Pelvic Floor Concerns in NE Calgary: Comprehensive Physiotherapy Solutions
At Skyview Ranch Physiotherapy, we specialize in providing comprehensive solutions for addressing concerns related to health and wellness in Northeast Calgary. Utilizing a personalized approach, our experienced and knowledgeable team of physiotherapists offers unique remedies tailored to each individual's needs with the goal of helping them reach their highest potential of well-being.
When it comes to pelvic floor concerns such as incontinence, prolapse, and pain, our treatments are designed specifically to target these issues holistically and naturally. We understand that any pelvic floor dysfunction can be uncomfortable or embarrassing for many people; this is why we take extra care to ensure that you feel comfortable discussing your problems with us.
Our services include:
– Manual therapy techniques
– Education about proper posture
– Breathing exercises
– Lifestyle modifications
These services help give you the tools you need to manage your condition long-term. With our personalized approach combined with evidence-based approaches from research studies on pelvic floor physiology, we strive to provide you with the best possible outcomes for improving your overall wellbeing.
Treating Pelvic Floor Disorders: Professional Physiotherapy Services in NE Calgary
Uncovering lasting relief from pelvic floor disorders is now possible with the professional physiotherapy services offered in Northeast Calgary. Skyview Ranch Physiotherapy Clinic provides comprehensive treatment plans tailored to each individual's specific needs.
The experienced team of certified pelvic floor physiotherapists at NE Calgary clinic and support staff strive to ensure that every patient receives the highest standard of care, focusing on helping them meet their health and wellness goals.
Pelvic floor physiotherapy offers a variety of treatments and techniques, such as specialized exercises, manual therapy, hydrotherapy, electrical stimulation, ultrasound therapy and educational sessions. With the help of these treatments, patients can address discomfort associated with pelvic floor disorders while improving strength and mobility in the affected area.
Patients also receive education about self-care strategies for ongoing management of symptoms at home.
At Skyview Ranch Physiotherapy Clinic, we understand that dealing with pelvic floor issues can be intimidating but our highly trained professionals are here to make it easier for you by providing evidence-based treatments that are safe and effective.
Supporting Women's Health: Trusted Pelvic Floor Physiotherapy in NE Calgary
Skyview Ranch Physiotherapy Clinic Calgary NE provides trusted and comprehensive treatments to support women's health, addressing discomfort associated with pelvic floor disorders while improving strength and mobility. Our highly-skilled physiotherapists have extensive experience in providing specialized care for pelvic floor dysfunction, including bladder and bowel incontinence, pelvic pain or pressure, diastasis recti (separation of abdominal muscles), prolapse of the uterus or vagina, and postnatal rehabilitation.
We offer individualized treatment plans tailored to each patient's needs which may include manual therapy techniques as well as therapeutic exercises.
Our goal is to improve quality of life by helping patients regain control over their bodies through education about pelvic floor anatomy and function as well as lifestyle modifications such as diet changes. We provide a safe environment where our clients can feel comfortable discussing sensitive issues related to their physical health. Our multidisciplinary approach ensures that we address all aspects of a patient's condition in order to develop an effective treatment plan that will provide relief from symptoms.
Patient-Focused Pelvic Floor Physiotherapy in NE Calgary: Empowering Your Health
Empowering your health with patient-focused treatments for sensitive issues, Skyview Ranch Physiotherapy Clinic provides specialized care to help women with pelvic floor physiotherapy in NE Calgary. Our experienced team of specialists understand the importance of a comprehensive approach to diagnosis and management, utilizing evidence-based practices to ensure positive outcomes.
We prioritize our clients' safety and comfort, and strive to create an atmosphere where patients feel respected and empowered to take control of their own health. Our pelvic floor physiotherapy program is designed to address both physical symptoms as well as the emotional aspects associated with pelvic floor dysfunction.
Through a combination of manual therapy techniques, patient education, exercise prescription, and lifestyle modifications we are able to guide our patients towards long-term success in managing their condition. We believe that by providing individualized treatment plans tailored specifically for each patient's needs we can help them achieve their goals and reclaim their quality of life.
Specialized Care for Pelvic Floor Dysfunction: Experience Effective Physiotherapy in NE Calgary
With a specialized focus on treating pelvic floor dysfunction, our experienced team of specialists provide effective physiotherapy for those in NE Calgary. At Skyview Ranch Physiotherapy, we are dedicated to helping patients achieve their health goals with personalized care and attention.
Our expert team of physiotherapists specialize in the assessment and treatment of all forms of pelvic floor dysfunction including urinary incontinence, faecal incontinence and prolapse. We ensure that each patient receives individualized care tailored to their specific needs and preferences.
Browse: Benefits of Pelvic Floor Physiotherapy 
Our clinic combines the latest evidence-based treatments with holistic approaches such as relaxation techniques to help patients regain control over their bodies. We are committed to providing safe, non-invasive treatments that will lead to lasting improvements in quality of life for those suffering from pelvic floor dysfunction in NE Calgary.
With our comprehensive approach to care, we strive to empower each patient, enabling them to take charge of their health and wellbeing in a supportive environment.
Frequently Asked Questions
How soon can I expect to see results from pelvic floor physiotherapy?
Results from pelvic floor physiotherapy may vary, as it depends on the individual's condition and goals. However, significant improvement is often seen within a few sessions or weeks of regular treatment.
Does pelvic floor physiotherapy hurt?
Pelvic floor physiotherapy may cause discomfort, depending on a person's individual experience. However, the goal of the treatment is to reduce pain and improve function in the long term.
Is pelvic floor physiotherapy at Skyview Ranch Physiotherapy covered by my insurance?
We cover most of the insurance companies and do direct billing.
What are the risks associated with pelvic floor physiotherapy?
Risks associated with pelvic floor physiotherapy include muscle strain, bladder and bowel irritation, nerve or tissue damage, and worsening of symptoms. It is important to discuss these risks with your healthcare provider before beginning treatment.
How often do I need to attend pelvic floor physiotherapy sessions?
The frequency of pelvic floor physiotherapy sessions can vary greatly, depending on the individual. Generally speaking, for maximum benefit, it is recommended to attend weekly or biweekly sessions. However, this may be exaggerated depending on the severity of the condition being treated.