TMJ Physiotherapy Near You in NE [ Registered TMJ Physio in Calgary ] | Skyview Ranch Physiotherapy +1 403-275-0105
Most people consider that the TMJ symptoms will go away on their own without requiring any treatment. But this is not the case with all people having TMJ pain and symptoms. Taking the right TMJ physiotherapy treatment by avoiding surgery in extreme conditions will help you the most. If you are blank about this TMJ disorder, you can get help from our TMJ dysfunction physiotherapy specialists at Skyview Ranch Physiotherapy Calgary Center. We will guide you with the right treatment by avoiding surgery even if you have more serious symptoms.
Thus, if you have any TMJ disorder symptoms, it is better that you consult our TMJ physio in NE Calgary for getting a clear view of your problem. Book your appointment today. 
You may browse: Motor vehicle accident physiotherapy Calgary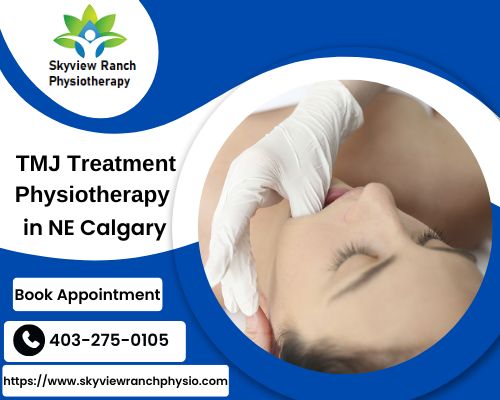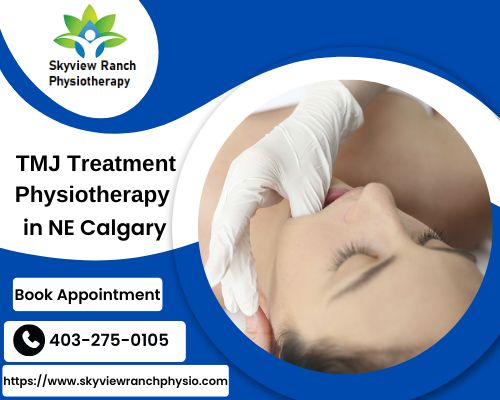 Why Do We Specialize In TMJ Dysfunction Treatment Physiotherapy?
Though you find many TMJ specialist physiotherapists in NE Calgary, we are much more specialized. We also suggest home treatments for fast recovery like:
       

Changing sleeping posture
        Exercises to reduce stress
        Avoiding chewing gums and hard foods
        Using ice to control swelling
        Eating soft foods
        Wearing mouthguards
Or TMJ physio will try to relieve your pain with some above easy home remedies. Since our Calgary center is much specialized in providing physiotherapy for TMJ disorder, TMJ patients will get good results from our therapies. Some of the therapies that we concentrate on our patients include
        Acupuncture
        Cooling Therapy
        Heat Therapy
        Stretching & Resistance Exercises
        Tissue Mobilization Therapy
When the main cause of TMJ disorder is stress, our Calgary TMJ specialist physiotherapists will suggest stress management exercises or talk therapy sessions for patients. So, we first analyze the cause and symptoms of the TMJ disorder to suggest the right treatment for patients. Most patients get different symptoms under this TMJ condition and thus, proper diagnosis is a must for patients.
You may browse:  Top chiropractor in NE 
How We Diagnose The TMJ Disorder Patients At Skyview Ranch Physiotherapy Center?
At first, our TMJ physiotherapist will ask for the symptoms that you get. Most patients will get jaw pain and surrounding muscle pain as a symptom. But this is not the only symptom, as people may experience other symptoms too. They are
       

Jaw locking
        Face or neck pain
        Vertigo
        Headaches
        Jaw's limited movement
        Clicking sound from the TMJ position
        Ringing sound in the ear
        Jaw muscle stiffness
        Jaw shifting or Malocclusion
There are no proper diagnosis tests available to assess this TMJ condition. Thus, our TMJ physios use different imaging tests to treat the condition. We ask our patients to undergo the following imaging tests.
Our physiotherapy for TMJ disorder experts will ask the patients to carry out the above tests over the jaw and teeth position. After diagnosis, we start our simple treatment at the beginning followed by other procedures. Our professional acupuncturists Calgary and Chiropractors follow the below step-by-step procedure to cure TMJ ailments.
The first step is suggesting some home remedies, as we discussed above
Then, we go for prescribing medications such as corticosteroids, muscle relaxers, and antidepressants
The next step involves the therapies discussed above
If all the above things didn't work well for our patients, we recommend surgery for them. Surgeries may involve replacing the joint, removing debris and fluid from the joint, and other dental corrective procedures.
In addition to the above procedure, we also recommend to our patients, some cool jaw exercises like
        Relaxed jaw exercise
        Goldfish exercise (partial or full opening)
        Forward jaw exercise
        Chin tucks
        Side-to-side jaw movement
        Resisted opening and closing of the mouth
How Can TMJ Physio NE Calgary Help You?
If you have any TMJ symptoms and searching for TMJ physical therapy near me, you can walk into our Skyview Ranch Physiotherapy clinic to get medical help. We are always there to help you and treat your TMJ disorders. Our experienced TMJ specialist physiotherapists are there to assess and treat your problems. So, you don't have to worry about this simple, sometimes serious Temporomandibular Joint Disorder (TMJ). Thus, reach out as soon as possible to get relief from pain.
You may browse: dry needling physiotherapy