Workplace Injuries Physiotherapy ( WCB Approved Physiotherapy) in North East Calgary | Skyview Ranch Physiotherapy +1 403-275-0105
Skyview Ranch Physiotherapy is one of the advanced centers in the city of Calgary to treat individuals who are suffering from injuries within the workplace. Here our workplace injuries physiotherapists are the best in treating your injury and provide them with the right therapies, exercise, and rehab programs for a quick recovery.
If you are involved in a workplace injury, then you can visit our WCB approved physiotherapy Calgary center. For more information, you can also visit the Workers Compensation Board (WCB) of Canada to know about insurance for workplace injuries.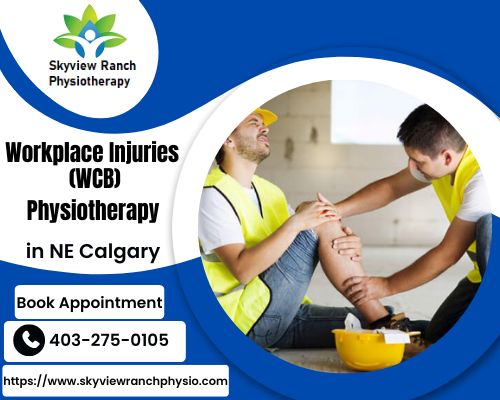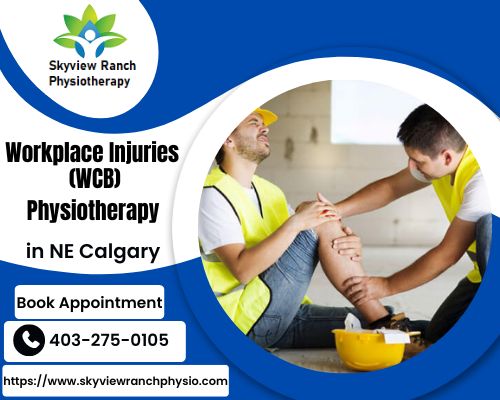 Decrease Your Recovery Time With Our WCB Approved Physiotherapy Treatment in Calgary:
At physiotherapy for work injuries Calgary center, our WCB physiotherapists provide the best treatment to cure the patients suffering from work-related injuries. We always wanted to eliminate the need of consuming dangerous medications having side effects. Additionally, we wanted our patients to stay away from any surgeries. Thus, our WCB approved therapists' main objective is to treat patients with some therapies and exercises but not medications and surgeries.
At Skyview Ranch Physiotherapy clinic, we take care of patients of all ages suffering from job injuries in an effective way. Based on our individuals' needs, our physiotherapists organize a customized treatment plan for individuals and additionally assist them with some work strategies to prevent injuries in the future. Thus, innovative pain control methods and some rehab programs are some key tools that our therapists use for patients to decrease their recovery time.
You may read: fertility acupuncture Calgary
How We Treat WCB Injury Physiotherapy in NE Calgary Center?
It is common for people to get some work injuries. Thus, to help such people, Skyview Ranch Physiotherapy in NE Calgary offers effective treatments and programs. Such programs include,
        Workplace injury therapy session
        Rehab program
        Worksite assessment
        Advice related to how one can avoid workplace injuries
Our WCB approved physiotherapists will focus on the injuries actively to get some approach for restoring the health of patients to the original condition. Thus, they can return to work and follow the strategic guidance of our therapists to avoid any future injuries. Thus, for individuals having workplace injuries, our therapists are there to treat and help them for recovery. Our workplace injuries physiotherapists in Calgary will treat work injuries with the following therapy programs that are helpful to:
Ø  Reduce and get relief from your pain
Ø  Motivate, strengthen you to concentrate on work again
Ø  Improve and get back your functional abilities
Ø  Guide you with ergonomic advice
Ø  Help you to get back to your work
Ø  Assist you to avoid future workplace injuries
Additionally, if you are suffering from long-term health issues such as
        Back pain
        Neck pain
        Shoulder pain
        Headache
Our work place injury physiotherapists in Calgary will also look after such issues and help you to get some relief from all kinds of pain. Thus, feel free to share your health problems with our therapists to get the best care and treatment.
You may browse: MVA Physiotherapy Clinic in Calgary
What Work Injuries Do We Care More About At Our Skyview Ranch Physiotherapy?
People, who are working in factories and chemical industries, are prone to work injuries.  If you got hurt at your job, you must take treatment as early as possible. In case, if you leave any type of injury, it will become much more severe in the future. Thus, Skyview Ranch Physiotherapy provides special care and attention to such emergency workplace injuries. Visit us as soon as possible when you got any of the below injuries
        Sprains and strains
        Auto accidents
        Tendinitis
        Back pain
        Carpal Tunnel Syndrome
We provide the best treatment that helps to relieve pain, improve mobility and care for your overall health. The easiest and quickest way of getting relief from job injuries is, of course, physiotherapy. So, visit us and get the physiotherapy for work injuries treatment as early as possible.
You may browse: IMS Therapy in Calgary
Book Your Appointment Today!
You need to book an appointment with us before reaching our workplace injuries physiotherapy Calgary center. For booking an appointment, you can make use of our official website. There is no need to worry about treatment costs, as WCB will cover your certain number of physiotherapy visits. Thus, you can visit our Calgary center to get almost free but at the same time, the best treatment.
You may browse: Registered TMJ Physio in Calgary