Cupping Massage &  Therapy in Calgary [ Wet & Dry Cupping ] | Skyview Ranch Physiotherapy | +1 403-275-0105
Skyview Ranch Physiotherapy is much specialized in providing cupping therapy treatment to patients. Additionally, we provide both types of cupping therapy at our Calgary Center such as wet cupping and dry cupping. Thus, no need to worry and simply visit us, when you have any of these issues like
       

Back pain

       

Acne

       

Lumbar disc herniation

       

Migraine headache

       

Asthma

       

Hypertension
Visit our cupping therapy Calgary center where you can get the treatment from our professional therapist.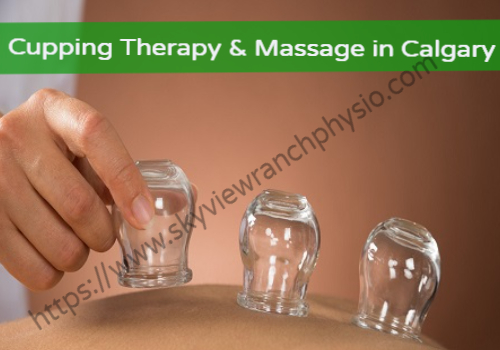 The Professional Cupping Massage Therapy At Calgary Center:
Though you will get cupping therapy at different therapeutic centers, what is special about our cupping therapy in Calgary Center? Actually, cupping therapy is mainly done to prevent tension over the muscles and thereby relieve pain. So after getting this treatment, patients should feel some relief from muscular pain. But this is not the case with every patient that we come across. Thus, our Cupping Massage Calgary therapists will combine cupping therapy along with therapeutic exercise for the good results.
This is how Skyview Ranch Physiotherapy becomes unique in providing cupping therapy to our patients. Our physical therapists always try to combine some hands-on treatments for getting the expected outcomes.
Who Will Provide Cupping Therapy At Calgary Center?
In general, physicians working in different medical fields are allowed to do this cupping therapy. So, the list includes
        Physical therapists
        Massage therapists
        General physicians
So, in our cupping massage Calgary center, we have all the above lists of people. But in most cases, our trained and certified acupuncturists and physical therapists will provide such therapy to patients.
You may read: concussion management physiotherapy
How Safe Is Cupping Therapy in Calgary?
All patients will not have the same health conditions. Each patient will have a different force and intensity. After analyzing whether the patient is physically strong to get this treatment, our cupping therapists will go ahead. Sometimes, cupping therapy is not good for some patients and they will suffer from the side effects. Some of them include,
       

Persistent skin discoloration
        Burns
        Scars
        Infections
        Psoriasis
        Internal bleeding
        Anemia
The above side effects are really dangerous and harmful to patients. Thus, after the proper analysis of the patient's health condition, our Calgary Therapists will move ahead with the procedure. Almost our therapists will provide treatment that is similar to the traditional Chinese medical practice method.
You may read: custom orthotics Calgary
Don't Worry About The Discoloration Left On The Skin – We Will Take Care Of It!
Most patients are worried to take this cupping therapy because of the discoloration left over the skin after this treatment. But here, the cupping therapy in Calgary Center is carried out by our trained and licensed therapists. So, you don't have to care about any side effects or skin discoloration.
Just, you will have skin discoloration for 5 to 10 days after treatment. The discoloration is nothing but the toxins and lactic acid that the cupping brought out through negative pressure. The discoloration is not permanent but it will go as soon as possible.
Different Kinds Of Cupping Therapy That You Get At Skyview Ranch Physiotherapy:
At Skyview Ranch Physiotherapy, our therapists provide you with various kinds of cupping therapy. Some of them are,
       

Dry Cupping
        Wet Cupping
        Fire Cupping
In all of these therapies, patients will get good results out of treatment. Fire glass cupping is popular at Skyview Ranch Physiotherapy. During fire cupping Calgary treatment, our therapists produce a vacuum using a flame and then create suction using cups on the patient's body.
Additionally, our physicians are experienced in providing both dry and wet cupping Calgary treatments.
Affordable Cupping Therapy Prices!
There are no hidden costs for getting a cupping therapy treatment in Calgary. You can refer to our websites where we posted our transparent and reasonable prices for all treatments. We also accept most of the insurance policies at our center.
Thus, no need to worry about therapy rates and you can just book your appointment using our contact details present on the Skyview Ranch Physiotherapy. Reach as soon as possible to get relief from health issues.
You may browse: WCB physiotherapy Calgary