Top & Best Chiropractor Near You in NE Calgary | Skyview Ranch Physiotherapy | +1 403-275-0105
Are you looking for a licensed, experienced and top chiropractor in NE Calgary or searching for the best chiropractor Calgary? Then you are at the right place. Here, at Skyview Ranch Physiotherapy, our chiropractors treat the patients in the best way to fight against various symptoms like joint pain, back pain, musculoskeletal issues, spinal cord problems, etc. There is a great increase in the rate of people in Canada suffering from back pains and muscle problems. Thus, to treat them in the best way, we have our Chiropractic clinic in Calgary.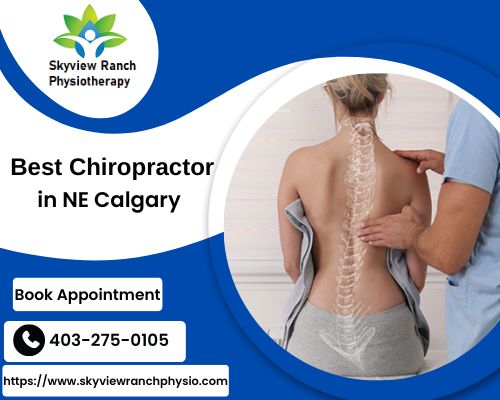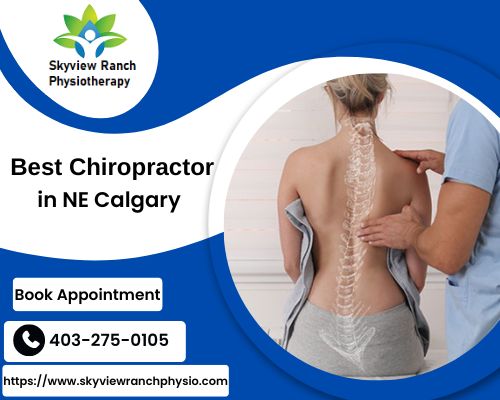 Why Choose Us?
The reason for you to choose our chiropractic centre for health in Calgary is that we have only registered male and female Chiropractors. They are in the chiropractic field for so many years with the best reviews. One of our experienced chiropractors, Deepak Guleria P.T. will treat all kinds of joint and spinal problems after the proper diagnosis. If you have any joint or spinal issues, just book your appointment and visit our Chiropractic Health Center Calgary today!
Emergency Appointments Are Available For Patients !!
We Accept Walk-ins !!
What Unique Facilities Are Our Chiropractic Center Calgary Provide You?
Once you book an appointment with us, you will get the schedule to meet one of our Chiropractors. During your consultation, our chiropractor will analyze your health condition and get an idea about pains, strains, and aches in your body.
Now, the advantage is that the chiropractor is not going to give you any medicine. In addition to that, you don't have to worry about getting surgery done. But our chiropractors will try their best to heal your body issues without medicine and surgery.
Furthermore, our best chiropractor in Calgary will simply suggest the following therapies and adjustments.
Soft-tissue Therapy: Our Chiropractors will try to get some relaxation over the tight muscles. Additionally, they will relieve spasms by decreasing the tension in the fascia.
Chiropractic Adjustments:

Here the Chiropractors will just realign the joints to promote the joint motion.

Joint Bracing Or Taping:

Our Chiropractors will suggest for joint bracing to heal sprained joints or muscles.

Exercises And Stretching Movements: Exercises are the best way to restore your body's mobility and motion range.
Other effective strategies that our chiropractors use include self-management techniques, electronic modalities, and finally good advice on how to get a pain-free life. If you are searching "who is the top chiropractor calgary near me" then we are the one. 
Chiropractic At An Affordable Cost. Book Emergency Appointment Now !!
What is Special About Chiropractors in Skyview Ranch Physiotherapy?
In general, most chiropractic treatments will not hurt your body. Similarly, our chiropractor in NE Calgary will provide treatment that does not hurt at all. Even if you don't get any side effects from our treatment like soreness.
Then, the special thing about our chiropractor in Calgary is that they will treat pain prevailing in any parts of the body like
       

Head and Shoulders

        Twists and Elbows

        Knees and Joints

        Hips and Pelvis

        Ankles
But before treating you, our top chiropractor in Calgary will analyze the entire musculoskeletal system. This is to treat you by analyzing the root of the problem. Our top Chiropractors let you go after analyzing the proper functioning of the joints as well as the surrounding muscles.
You may browse: Acupuncturist Calgary
Another special thing about our chiropractic centre for health Calgary is that we provide chiropractic treatments to people of all age groups. But our treatment will vary based on the force and intensity that the patient has. After the proper screening of the patients to fit for chiropractic care, we provide the treatment. If we find that the chiropractic treatment is not good for any individual, we will suggest them some other effective treatments.
Don't Have To Worry About Prices!
There is no need to worry about the chiropractor Calgary prices or chiropractor cost Calgary at Skyview Ranch Physiotherapy, as we accept most of the insurance provider companies. If you don't have insurance too, we have some local plans and packages. So, book your appointment today and get relief from pain.
Book Your Appointment Now!
To book your appointment, visit our website where you will get contact details. If you are in the city of Calgary and looking for a chiropractor Calgary near me, then book your appointment at Skyview Ranch Physiotherapy.
You may browse: Chiropractors that direct bill