Skyview Ranch Physiotherapy: Physiotherapy in NE Calgary +1 403-275-0105
Skyview Ranch Physiotherapy is leading physiotherapy clinics in Calgary and we accept walk-ins & cater to emergency appointments. With a team of certified Chiropractics and acupuncturist physical therapists specialized in various physiotherapy fields, we try to improve the lives of many people who suffer from injuries or post-surgery issues. We help our patients to get back to their proper health condition by avoiding surgery. Thus, we are great experts in making our patients realize their strengths and potential.
We always strive to get the all possible results for our patients, irrespective of their age or body condition. Whatever you have issues; we have physiotherapist in Calgary to care for you.
Why Skyview Ranch Physiotherapy?
Though you find many physiotherapy clinics in Calgary, but Skyview Ranch Physiotherapy is a much specialized in treating injuries related to bones, muscles, nerves, and ligaments. We are a renowned name in NE Calgary.
Our trained team of physical therapists assess and diagnose the patients to find out the treatment that works out well for them. After diagnosing the patients, our therapists will give the finest treatment to get back the physical function of patients. Some of the treatment strategies we use include,
Manual Therapy
Chiropractic Therapy & Adjustments
Shockwave Therapy
Laser Therapy
Medical Acupuncture Therapy
Electro-physical Modalities
Injury specific exercise prescription
Movement retraining
All the above treatment methods work effectively if the patients suffer from accident injuries, sports injuries, post-surgical pains, etc. That is one of the reasons we have a known clinic of skilled physiotherapy NE Calgary.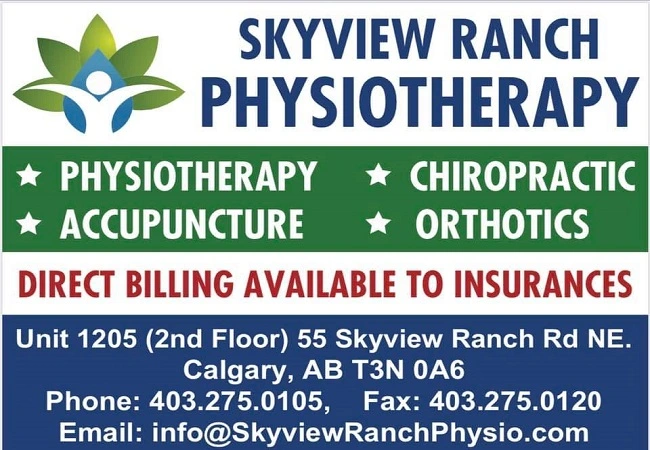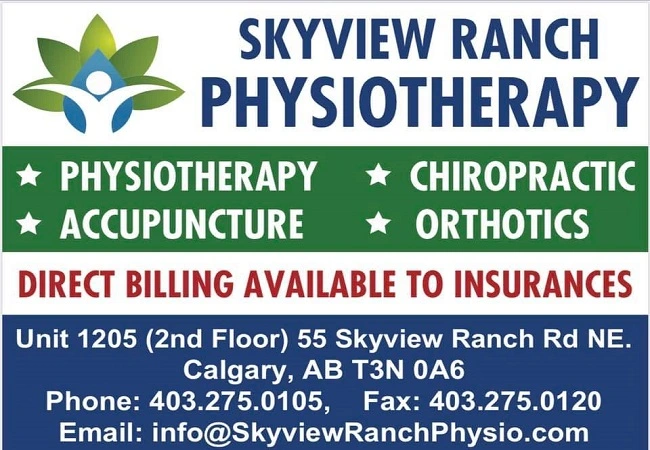 How Can Our Physical Therapists Help?
In addition to physiotherapy practice in the Skyview Ranch Physiotherapy, we are also specialized in many other services including,
Custom Orthotics
Concussion Management
Dry Needling
Vestibular Rehabilitation
TMJ Pain Treatment
Physio for Car Accident Injuries
Physio for work injuries ( WCB)
Acupuncture Services:
Acupuncture has been in the medical field for many centuries ago. To balance the energy flow, physical therapists provide this medical treatment to our patients. For the effective working of acupuncture, we provide this treatment along with osteopathic massage.
Custom Orthotics Treatment:
Those who are experiencing foot pain due to the abnormal movement of the foot can get this treatment at our center. Though some people think this treatment is not effective in relieving foot pain, our therapists proved this statement false. We always suggest our patients with the experienced orthotics that provide a good cushion and comfort. Even for abnormal pain of the foot, we suggest some sturdier orthotics for patients.
Cupping Therapy:
Cupping therapy is one of the trendy treatments prevailing today. Everyone knows that the main aim of this therapy is to treat conditions such as blood flow issues, pain, inflammation, etc. To get the finest cupping therapy book your appointments at Skyview Ranch physiotherapy clinic in Calgary.
Vestibular Rehabilitation:
To treat the conditions like vertigo, nausea, dizziness, loss of balance, etc, our top physiotherapists Calgary provide the right rehabilitation program to our patients. Our experienced physiotherapists Calgary assesse your condition well to provide the well-suited treatment.
Concussion Management:
A Concussion is one of the serious conditions that affect your brain. Thus, to assess whether the patients have this problem after the head injury, our professional physiotherapists in Calgary conduct various diagnostic tests. Such test includes the cognitive test, neurological examination, CT scan, MRI scan, and overnight observation. After carrying out these many tests, our therapists will decide to further treatment for patients.
Dry Needling Therapy:
Only certified physiotherapists in Calgary have enough skills can carry out dry needling to patients. Since we have such trained therapists in our physiotherapy clinic; we allow them to provide this treatment to those having neuro-musculoskeletal pain.
TMJ Pain:
There are some home treatments available to treat this TMJ pain. But still, some pains are intolerable and can be reduced with the help of therapists. At Skyview Physiotherapy, our trained professionals will assess the severity of your condition and then, go for the right treatment.
Walk-in Clinic in NE Calgary: Book Your Appointment Now! 
Being the leading physiotherapy clinic in Calgary, we actually believe in delivering affordable services to our patients. There is no need to worry if you don't have health insurance for getting treatment. To help such people we have some payment plans and private payment rates. Thus, ensure that you book your appointment today if you face any of the above health conditions or searching for a top physiotherapy clinic near me. Also, we accept walk-ins at our clinic. Feel free to reach us through mail or phone number.
Google Reviews
The physiotherapist has done wonders. Great clinic, great techniques, and great physiotherapists.
Sifaks Belmiloud
2023-03-19
Skyview Ranch physiotherapy is amazing I was injured at work since December 19 2022 From my first visit I felt the difference now its my 5th visit I'm already close to 100%my shoulder is way better thank you very much for your help. I recommend Skyview Ranch physiotherapy to anyone who's dealing with anything to come here they are true professionals.
tufail hussain
2023-03-15
I am having a wonderful experience with Deepak (PT) Guleria at Skyview Ranch Physiotherapy. He is incredibly knowledgeable and skilled in his field, and he takes the time to listen to my concerns and develop a personalized treatment plan. His caring and compassionate approach makes me feel comfortable in my ongoing appointments. Thanks to his expertise, I am making significant progress toward my recovery and would highly recommend him to anyone seeking physiotherapy services.
I had a fantastic experience at the clinic. The staff was extremely knowledgeable and caring, and they took the time to understand my needs and developed a personalized treatment plan. I highly recommended this clinic to anyone in need of physiotherapy. I would like to thank you Deepak and the team.
the people are so helpful and nice ..
Satinder Singh
2023-03-15
Deicy tharmathurai
2023-03-14
Balpreet Nagra
2023-03-14
I have been seeing Deepak for the last couple of months regarding chronic neck pain. He's absolutely amazing and has helped me tremendously to treat the pain. Every visit, he tries different treatments to determine how I was reacting to each of them. I would 100% recommend him!!
Very nice place for physio. I had never had to have physio ever and for this being my first time. The staff made me feel very comfortable. Very knowledgeable and always let me know what they were doing. Always explained why, what for and how it was going to be done. Very fast and efficient. Sending reminders about appointments, always called to confirm or to ask how things were going. Never let me leave without helping and making sure everything was taken care of. I would recommend that if you need help SkyView physio is the place to get it.
CONTACT US
Call Now:
Fax:
403-275-0120
Clinic Address :
Unit 1205, 55 Skyview Ranch Rd NE,Calgary Alberta T3N 0A6
Working Hours :
Mon - Fri : 9:00 AM - 8:00 PM
Sat : 9:00 AM - 4:00 PM
Sunday - 9:00 AM - 4:00 PM