Best Acupuncturist NE Calgary Clinic | Cosmetic & Facial Acupuncture NE Calgary | +1 403-275-0105
One of the traditional Chinese methods but powerful and effective to treat various conditions is Acupuncture. In Skyview Ranch Physiotherapy, our acupuncturist Calgary follows the right procedure of inserting thin needles into our patient's skin after locating the right 'acupoints.'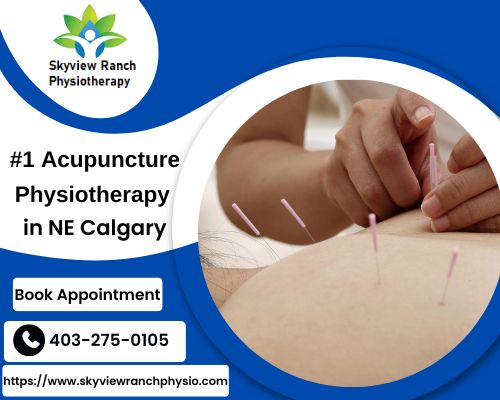 Why Acupuncture in Skyview Ranch Physiotherapy Clinic?
At Acupuncture Calgary Clinic we'll carry out this procedure after diagnosing the patients properly. Once they carry out this procedure, the treatment will help to get back the patient's energy by rebalancing. Also, it will just release the natural chemicals from the body to fight against illness.
How Does Our Acupuncturist Follow The Principle Of Treatment?
Our  team of registered acupuncturists relieves the symptoms of patients such as inflammation and pain through acupuncture. So, the main objective of this treatment is to remove the pain and inflammation from patients.
After understanding the effectiveness of this treatment, our Calgary acupuncture centre brought this treatment into our center.
Special Types Of Acupuncture Treatments In Skyview Ranch Physiotherapy NE Calgary Clinic:
Acupuncture not only treats pain and inflammation but also treats various health conditions like
       

Nausea
        Anxiety
        Depression
        Infertility
        Musculoskeletal problems
In general, acupuncture involves the traditional method of directing the flow of energy (qi in Chinese). But now, with the advanced technology, our acupuncture clinic Calgary uses western medicine of using needles to relieve pain. Actually, we have some acupuncturists who use both methods to treat patients effectively. 
 Our Unique Acupuncture Approach :
In the Calgary acupuncture center, we use the acupuncture approach along with moxibustion and cupping. Moxibustion is very effective in improving the flow of energy and thereby, allowing a good flow of blood all around the body. Actually, Moxibustion is best for females as it regulates their health conditions such as
       

Infertility
        Menstrual Problems
        Breech Pregnancy
In addition to that, Moxibustion is effective to treat male personal issues such as sperm quality and impotence.
So, now you have got the point why we are providing acupuncture in conjunction with moxibustion. At the acupuncture health center Calgary, a team of experienced acupuncturists carries out this procedure on patients.
Coming to the cupping therapy, our acupuncturist Calgary provides this treatment to those patients to treat various conditions including,
        Stress
        Headache
        Back pain
        Poor alignment of the flow of energy
        Digestive problems
        Mental issues
        Eye problems
So, most of the conditions are treated well in our Acupuncture Health Calgary Center after the proper assessment and diagnosis.
Read: Chinese Acupuncture in NE Calgary

 How Popular is Skyview Ranch Physiotherapy Clinic In Providing Cosmetic Acupuncture Treatment?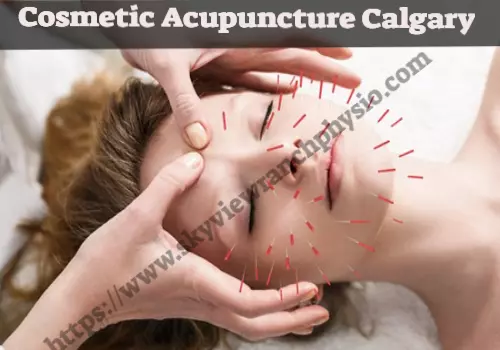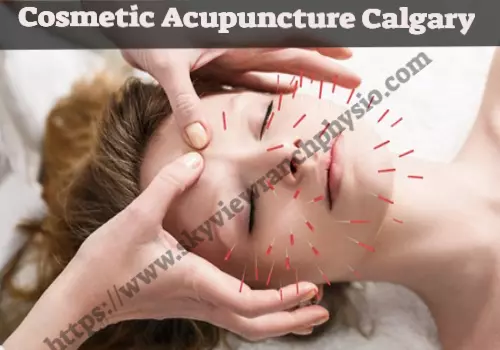 Nowadays, most patients visit our Calgary acupuncture clinic to get cosmetic acupuncture treatment. Cosmetic acupuncture is the best method to improve your skin problems and fight your aging factors. The main aim of providing this treatment to our patients is to fight against various conditions such as,
        Wrinkles
        Dark circles
        Aging spots
        Diminish fine lines
        Droopy eyelids
It is not only for the face, but you can also get this cosmetic acupuncture Calgary all over the body to improve skin conditions. Almost for this treatment, we prefer more sessions like 10 or more for effective results. Once our Calgary acupuncturists finish this treatment, he/she will let you know about the things that you need to avoid using on your face. Since our professionals give importance to the health of the patients, they will explain all about the treatment and other factors clearly.
You may read: fertility acupuncture Calgary

In addition to Cosmetic Acupuncture Calgary, our acupuncturists are specialized in providing facial treatments and the treatment is facial acupuncture Calgary. It will help to treat our patients having facial problems like
        Acnes
        Facial swelling
        Wrinkles
        Skin sagging
        Jaw tension
        Poor facial muscle tone
        Maximized pores
Since we provide almost all kinds of acupuncture in Skyview Ranch Physiotherapy, we serve as the best acupuncture clinic in Calgary.
 Is Acupuncture Safe?
Getting the acupuncture treatment is completely safe when it is performed by a qualified and experienced acupuncturist Calgary. Since, in our acupuncture clinic Calgary, we have only such qualified and best acupuncturists, it is completely safe for you to take this treatment.
Additionally, in our North East Calgary acupuncture centre, we use only recommended steel and sterile needles that are nontoxic for the treatment. Thus, you can book your appointment today to get any kind of acupuncture treatment ( including facial acupuncture Calgary & cosmetic acupuncture Calgary), in our Skyview Ranch Physiotherapy Clinic.