Concussion Management Physiotherapy Near You Calgary | Skyview Ranch Physiotherapy | +1 403-275-0105
Most people are suffering from the traumatic condition, Concussion, which is a complex pathophysiological condition. This condition directly affects the brain of patients. Thus, taking the right treatment becomes essential for patients to recover from this condition. At the Skyview Ranch Physiotherapy, patients are diagnosed properly to give the right concussion treatment physiotherapy.
If you are in the city of Calgary and searching for 'concussion physiotherapy near me', then you should visit our Calgary Skyview Ranch center.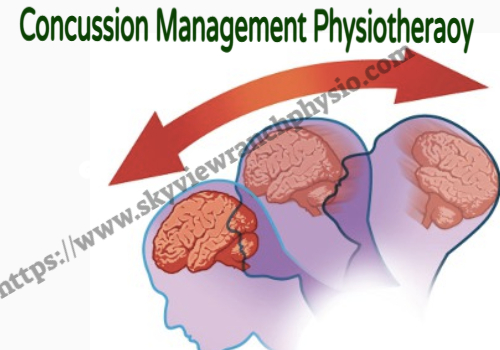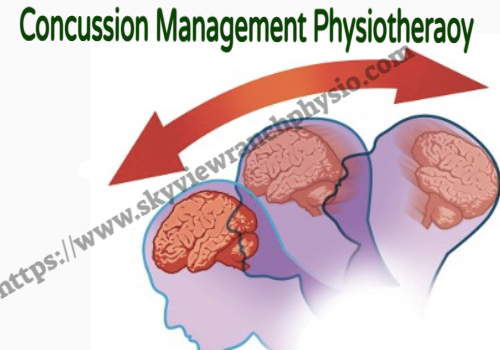 Why Choose Skyview Ranch Physiotherapy Concussion Physiotherapy Calgary Center?
A Concussion is a serious condition hence, getting the right treatment may help to treat it best. Otherwise, it will leave the condition of the patient to be serious and even fatal sometimes. Thus, our concussion therapists recommend our patients follow the three R's such as
When patients follow the above concussion physiotherapy treatment, it will be easy for them and especially teen patients will recover faster from the concussion.
The first thing that our therapists will do is ask about your past accident. Because concussion is the result of an injury due to biomechanical force such as
       

Direct force or blow to the head or face or neck

       

Force to other parts of the body that transmit mechanical force or blow to the head
Since most patients will not experience consciousness with the above force, it is difficult to guess about your health. Thus, our therapists will examine you properly and ask you a question about your past accidents. We will even ask for the symptoms that you may get due to a concussion. Such symptoms include,
       

Nausea or vomiting
        Confusion
        Headache
        Balance issues
        Blurry vision
        Feeling drowsy all the time
        Trouble in understanding
        Sensitivity to noise and light
        Dizziness
        Depression
        Nervous and difficulty in paying attention
So, our Calgary physical therapists will ask you about the above symptoms for diagnosing your health condition. Once our physiotherapist diagnoses you, we will start the concussion physiotherapy for you.
We are also specialized in Vestibular Rehabilitation Physiotherapy
Calgary Therapists Give More Care For Concussion Patients Who Are At Risk:
As already said, concussion is a serious health issue for some patients, and getting proper treatment becomes crucial. Some of the patients who are at greater risk for concussion are,
        Children ages 4 and below and older people
        Bike accidents teens and adults
        Sport-related head injuries people
        Military personnel due to bomb-blast injuries
        Car accident patients
        Patients who already have concussions before
So, our concussion management physiotherapy center will concentrate more on the above patients who are at greater risk of concession. For them, our therapists provide the best treatment by providing medications. Even, our concussion therapists will ask you to do some normal activities for treatment such as
       

Drinking more water to avoid dehydration

       

Taking enough rest daily

       

Not allowed to drive a vehicle

       

Giving rest to your brain

       

Taking a break from sports

       

Avoiding alcohol for recovery
If the concussion patients are looking for the best concussion rehab near me, then such patients can visit our physiotherapy concussion center.
You may read: custom orthotics Calgary
How are Skyview Ranch Physiotherapists Special in Diagnosing Concussion Patients?
Our physical therapists will evaluate your symptoms at first. Then, we will review the medical history of the patients to move further to neurological examination. Actually, the problem with this concession condition is that its symptoms will not appear after injury for some days or hours. Thus, go for the diagnosis soon after you meet with an accident to stay safer.
You may browse: Top Chiropractor in Calgary
In concussion treatment physiotherapy, our therapist will perform a neurological examination and other tests of diagnosis. The first diagnosis is the neurological examination where our therapists will ask you detailed questions about your accident and injury. Then, we will evaluate you to check your
       

Balance

       

Vision

       

Hearing capacity

       

Strength

       

Reflexes
Then, we will carry out the next diagnosis step of physiotherapy concussion treatment. It is cognitive testing that evaluates several brain working factors such as
       

Concentration

       

Memory

       

Ability to get back memories or data
The third diagnosis procedure is imaging tests. In the physio treatment for concussion, this is the main diagnosis procedure that our therapists carry out to evaluate the patient's condition. Such crucial tests are
       

Computerized Tomography (CT) Scan

       

Magnetic Resonance Imaging (MRI) Scan
Finally, our therapists will keep the patients for observation overnight. We will agree for someone to stay with the patient overnight. Thus, you don't have to worry about staying at our Calgary center for one night, as we provide great care and attention. Since observation plays a crucial role in evaluating the condition of our patients, we follow this procedure as a must.
You may browse: Best Acupuncturist Calgary
Visit Our Website To Book An Appointment!
This is how we are specialized in treating concession disorder patients. If you are in Calgary and suffering from any of the concession symptoms, you can simply visit our website to book an appointment. Reach out as soon as possible if you have any concession symptoms!
Know about Cupping Therapy Calgary