Chinese Acupuncture in NE Calgary | Skyview Ranch Physiotherapy +1 403-275-0105
Skyview Ranch Physiotherapy is a popular chiropractic and physiotherapy center that stands best in providing the right treatment to patients. An interesting fact is that we have a team of experienced acupuncturists who have great knowledge of Chinese acupuncture practice. We even practiced and achieved good results with patients.
Thus, you don't have to search for any Calgary healing acupuncture to get this acupuncture treatment, as we will take care of it.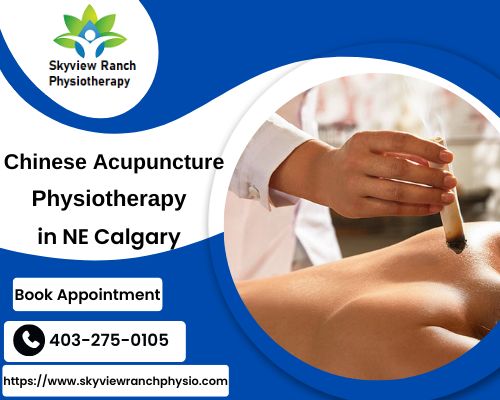 Why Do We Believe And Practice Traditional Chinese Acupuncture In NE Calgary?
All patients are not having the same body conditions. For some, modern medicine will work best and for others, traditional Chinese acupuncture will give good results. So, after evaluating our patients, we will provide the old but powerful Chinese acupuncture to improve their health ailments.
When our acupuncturists practice this traditional Chinese acupuncture on patients, it will help for the improvisation of the energy flow (qi) and thus, promotes overall health. Generally, our acupuncturists will insert thin needles over various acupoints on your body to produce the energy flow. It will help to get some relief from health issues by improving the energy flow through acupuncture.
Thus, our acupuncturists believe that with the help of Calgary healing acupuncture, it is possible to re-balance the energy flow.
Know: How Acupuncture Improves Fertility

How We Practice The Chinese Acupuncture In Calgary?
As soon as you book an appointment with us, you can visit us for the initial consultation. During your first visit, our acupuncturists will ask you a series of questions and use some diagnosis methods to analyze your body condition. Our acupuncturists also examine the following things for you.
        Checking the pulse to know about its strength and quality
        The shape and color of your tongue
        Examining the painful parts of your body
        Noticing your face color
Since each patient may require a different style of acupuncture treatment, examining the above things will help the practitioner to choose the right approach to medicine. Additionally, our acupuncturists will ask you for symptoms that you suffer from. Such symptoms may include,
       

Headache
        Tennis elbow
        Neck pain
        Menstrual cramps
        Osteoarthritis
        Lower back pain
        Fibromyalgia
        Dental pain
        Nausea and vomiting
        Respiratory problems
After knowing about your symptoms, our acupuncturist will start the Calgary healing acupuncture treatment. To rebalance the energy flow, our acupuncturist will also combine other stimulation forms along with this ancient treatment. They are,
       

Moxibustion (heat)

       

Acupressure (pressure)

       

Cupping (suction)

       

Friction

       

Electromagnetic energy impulses
Browse: Acupuncturist NE Calgary Calgary
No Chinese Acupuncture For Patients With Risks At Calgary!
We strictly recommend not practicing Chinese acupuncture for some patients having allergic problems and risks. So, here is the list,
       

Patients having bleeding disorders and thus, insertion of needles will cause continuous bleeding
        Pacemaker patients are not allowed as electrical pulses of acupuncture may disturb the pacemaker's job
        Some pregnant women are allergic and sensitive to acupuncture and they even get early labor pain.
Thus, our acupuncturists carry out clean diagnosis procedures to eliminate the patients having risks of taking acupuncture.
You may browse: Fertility acupuncture NE Calgary
Do You Have Risks Of Taking Chinese Acupuncture In Calgary?
Acupuncture involves the insertion of thin needles on acupoints to direct the energy flow. But what happens when there is improper placement of needles? It will seriously harm the health condition of patients and create some serious side effects. Thus, to avoid all these problems, our certified and best acupuncturists Calgary will carry out the treatment.
With a great experience in the field of acupuncture, our acupuncturists follow the right Chinese acupuncture treatment. We will use only disposable and single-use needles to avoid any kinds of infection. So, the patients don't have to worry about getting any symptoms after acupuncture-like
        Bleeding
        Bruising
        Pain over the punctured areas
        Dizziness
        Drowsiness
Our medical practitioners carry out a series of Chinese acupuncture treatments based on the health condition of patients. For those having chronic pain, the treatment may extend for a long time. But for sure, you will get good results out of our treatment.
You may browse: Workplace Injuries Physiotherapy Calgary
Don't Have To Rely On Acupuncture Calgary Prices!
If you have the above-discussed symptoms, you should feel free to reach us soon. We will provide the best treatment and you don't have to worry about acupuncture Calgary prices, as we charge you an affordable rate. You can make use of your insurance policies to cover the acupuncture treatment. But ensure that you check with your policy provider about covering acupuncture in your policy.