Chronic Pain Management: Exploring Physiotherapy, Lifestyle Modifications and Integrative Therapies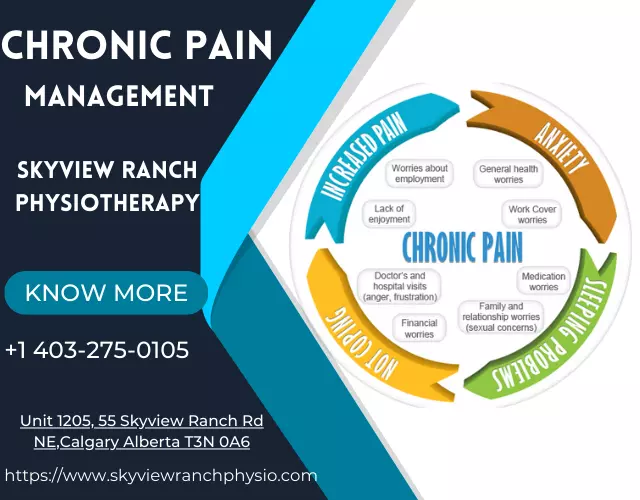 Examining the effects of prolonged affliction on an individual's wellbeing provides invaluable insight into the complicated nature of long-term distress. Chronic pain, defined as lasting longer than three months or beyond the natural course of healing, has a wide range of physical and psychological implications for those suffering from it.
Also the physical suffering experienced by individuals with chronic pain, this condition can also lead to significant emotional distress such as anxiety, depression, frustration, anger and feelings of helplessness and hopelessness.
Moreover, these negative emotions can contribute to increased sensitivity to pain and fatigue.
Equally important is considering how social relationships are impacted by chronic pain.
Friendships may become strained due to reduced functioning and activity levels that limit one's ability to participate in activities that were once enjoyed.

Family members may feel frustrated or overwhelmed at not being able to effectively help their loved one cope with this long-term affliction.

Those living with chronic pain often experience disruption in their daily lives due to unpredictable flare-ups which results in them having difficulty maintaining regular routines or commitments such as work or school obligations.

It is clear then that chronic pain affects more than just bodily sensations; its reach extends far beyond through multiple aspects of life including mental health, social relationships and daily functioning.
As such, interventions aimed at managing this condition must take into account the full spectrum of how it impacts sufferers in order for progress towards improvement to be made.
Physiotherapy approaches for pain relief:
An exploration of physiotherapy approaches for alleviating discomfort is presented. Physiotherapists are skilled professionals who use a variety of evidence-based treatments and techniques to help reduce the intensity and duration of chronic pain.
These techniques include:
– Manual therapy, such as massage, joint mobilization, and exercise
– Modalities like electrotherapy and ultrasound
– Therapeutic activities like strengthening exercises
– Patient education on self-management strategies
– Breathwork and relaxation techniques
– Lifestyle modifications for improved function
Physiotherapists may implement an individualized treatment plan that combines multiple approaches based on the specific needs of each patient.
For example, in cases where there is soft tissue tightness or restrictions contributing to pain, the therapist may utilize manual therapy to improve mobility in joints or muscles. Additionally, if a patient has difficulty engaging certain muscle groups due to poor posture or compensation patterns from injury, they will benefit from corrective exercises tailored to their individual needs.
Education on appropriate posture and body mechanics can also be beneficial in helping patients understand how their everyday movements may contribute to their chronic pain experience. Moreover, incorporating relaxation strategies such as yoga or mindfulness into daily practice can help reduce stress levels which often exacerbate chronic pain symptoms.
By promoting healthy habits through lifestyle modification counseling and offering resources for continued self-management support after discharge, physiotherapists strive to empower patients with tools for lasting relief from chronic pain.
Browse: Physiotherapy for back pain NE Calgary

Lifestyle modifications for managing chronic pain:
Lifestyle changes can play a critical role in reducing the intensity and duration of chronic pain, as they work to address underlying factors that may be contributing to the discomfort.
Regular physical activity is one such lifestyle modification that has been known to help manage chronic pain. Exercise helps improve muscle strength, posture, flexibility and mobility which can reduce strain on painful areas of the body. Additionally, exercise releases endorphins which act as the body's natural painkillers and also reduces stress levels by releasing tension from muscles; thus helping reduce any feelings of depression or anxiety associated with living with chronic pain.
If an individual suffering from chronic pain finds it difficult to commit to regular physical activity then other lifestyle modifications may include relaxation techniques like yoga, mindfulness meditation or deep breathing exercises. These activities have been known to help relax muscles and enhance mental well being by helping reduce stress-related hormones like cortisol which helps mitigate anxiety levels thus making an individual more receptive towards treatment for their condition.
Furthermore, these practices also help create awareness about one's own body through mindful observation which can prompt better decision-making when it comes to self-care and management of chronic conditions.
Browse: Ankle Pain Physiotherapy in NE Calgary

Healthy eating habits are another beneficial lifestyle change for people experiencing chronic pain as certain diets consisting mostly of plant-based foods are believed to contain anti-inflammatory properties that aid in reducing inflammation within the body which is commonly linked with many types of pains related to musculoskeletal disorders. Eating meals high in fiber, antioxidants and omega 3 fatty acids along with avoiding processed foods are all recommended dietary changes for those looking to manage their chronic condition holistically through nutrition-focused approaches.
Integrative therapies for pain management
Integrative therapies, such as yoga and nutrition-focused approaches, offer an array of strategies to help alleviate pain associated with musculoskeletal disorders. When it comes to yoga, the practice of engaging in mindful movement has been shown to reduce pain by calming the body's nervous system and increasing range of motion. The combination of mental focus on the breath, physical poses, and relaxation techniques can also result in decreased stress levels linked to chronic pain.
Additionally, nutrition-focused approaches such as diet modifications have been found to be beneficial for managing chronic pain. A balanced diet rich in anti-inflammatory foods can help reduce inflammation that may be causing discomfort or exacerbating existing pain. Proper hydration is also important because dehydration can cause muscles to become tight and more prone to injury.
Lastly, supplements may also assist with treating chronic pain symptoms when incorporated into a comprehensive treatment plan alongside other therapies. Supplements such as omega-3 fatty acids have been known to decrease inflammation while chondroitin sulfate has been shown to improve joint function in osteoarthritis patients which could potentially lead to improved mobility and reduced discomfort overall. Furthermore, supplementing with vitamins D3 and B12 are essential for bone health which helps maintain strength and prevent injuries that can further aggravate any existing issues due its ability increase calcium absorption within bones.
Browse: TMJ physiotherapy in NE Calgary

Integrative therapies provide individuals experiencing chronic pain a variety of options aimed at helping reduce their suffering from various musculoskeletal disorders and often involve lifestyle changes such as dietary modifications or yoga practice coupled with supplementation when needed for optimal results. These holistic treatments aim at improving quality of life not just through symptom relief but by providing a healthy path forward towards an improved state of wellbeing overall.
Conclusion:
Pain can be a debilitating condition that affects both physical and psychological well-being. Research has found that physiotherapy is an effective approach for relieving chronic pain, with up to 70% of patients reporting substantial improvement in their symptoms.
In addition to traditional physiotherapy methods, lifestyle modifications and integrative therapies are also important components for managing chronic pain. These can include dietary adjustments, stress reduction techniques, mindfulness practices, acupuncture, yoga and massage therapy.
With the right combination of treatment approaches and an open dialogue between patient and healthcare provider, individuals suffering from chronic pain can find relief and improved quality of life.