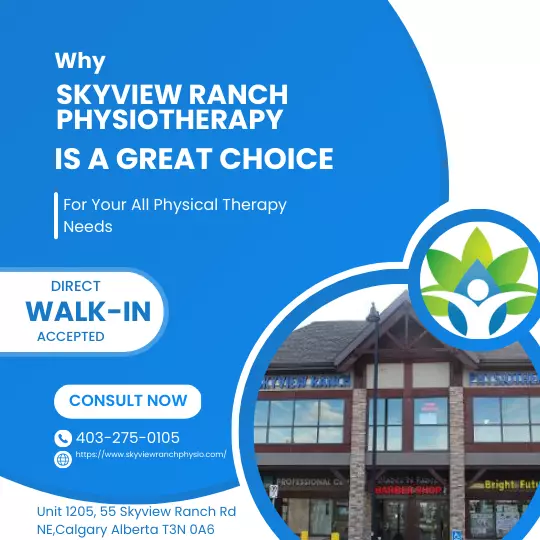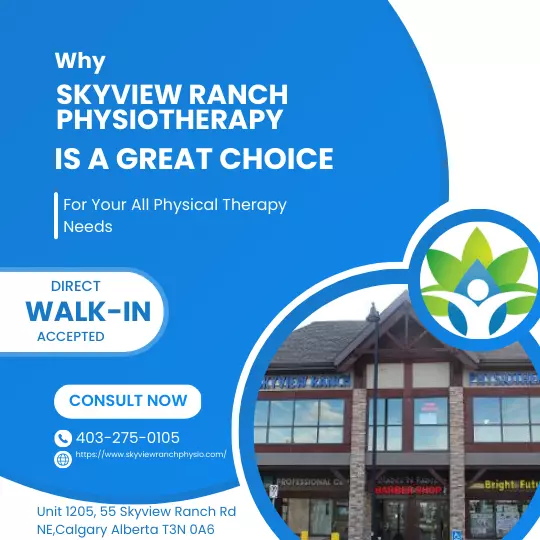 Why Skyview Ranch Physiotherapy is A Great Choice For Your Physical Therapy Needs?
It is important to consider the various options when it comes to physical therapy in Skyview Ranch NE Calgary. For those seeking quality care, Skyview Ranch Physiotherapy offers great results and a number of benefits that make it an ideal choice for your physiotherapy, Chiropractic and Acupuncture needs. Despite this, some may still be hesitant as they worry about cost or time spent in treatment; however, these worries can be allayed by understanding what makes Skyview Ranch Physiotherapy such a great option.
Skyview Ranch Physiotherapy stands out due to its highly trained team of professionals physiotherapists like Deepak Guleria ( Master's Degree in Physiotherapy (MPT) with a specialization in musculoskeletal in 2010 from LPU, India )  and Lovepreet Singh (Registered Physiotherapist and graduated from Baba Farid University of Health Sciences, India with a Bachelor's degree in Physiotherapy in 2019)  who have extensive experience in treating a diverse range of conditions.
The staff is dedicated to providing personalized services with each individual receiving customized programs aimed at improving their overall health and well-being. Moreover, patients also benefit from state-of-the-art equipment and cutting edge technology which allows them to effectively track progress and receive accurate diagnoses quickly. By taking advantage of these resources, individuals can feel empowered on their path towards recovery while enjoying greater freedom and autonomy in their lives.
Browse: Best Physiotherapy in NE Calgary
Introduction, Experienced And Skilled Therapists:
Skyview Ranch Physiotherapy is a physical therapy clinic located in NE Calgary. They specialize in providing comprehensive, personalized care to patients from all walks of life. The team at Skyview Ranch Physiotherapy consists of highly qualified and experienced physiotherapists who are dedicated to helping their patients reach optimal health and wellbeing.
Skyview Ranch Physiotherapy's unique approach focuses on patient-centred outcomes that are tailored to each individual's needs. Their Therapists, Chiropractors and Acupuncturists use evidence-based interventions combined with manual techniques such as joint manipulation, deep tissue massage, exercise prescription, and posture correction to help people achieve their goals.
With their focus on client education, they also provide invaluable advice on how best to manage pain and injury long term. Ultimately, this leads to improved function, greater independence and an overall better quality of life for those seeking physical therapy services.
It is no wonder why Skyview Ranch Physiotherapy has become a trusted provider of exceptional care by many individuals across the Calgary area.
Personalized Treatment Plans:
Skyview Ranch Physiotherapy understands that no two patients are the same and therefore provides personalized treatment plans for each individual. The skilled physiotherapists, acupuncturists and chiropractors at Skyview Ranch Physiotherapy assess a patient's unique needs and create an appropriate plan of action tailored to their specific condition, goals, lifestyle, and capabilities.
The importance of personalizing care cannot be overstated; when there is a focus on treating each person as an individual with distinct needs and requirements, it leads to more successful outcomes.
At Skyview Ranch Physiotherapy, this is achieved through utilizing evidence-based practice techniques in combination with hands-on expertise. From manual therapy techniques such as joint mobilization/manipulation to therapeutic exercises like stretching or strengthening—each course of treatment takes into account not only the patient's condition but also other factors like age, gender, overall health status, past medical history, etc.
State-Of-The-Art Facilities And Equipment:
Skyview Ranch Physiotherapy has one of the most advanced facilities in physical therapy. From its modern and inviting lobby to its expansive treatment rooms, everything about this facility is top-notch.
The equipment used at Skyview Ranch Physio is nothing short of extraordinary. Cutting edge technology provides physiotherapists with access to the latest tools in physical therapy care, allowing them to accurately diagnose problems and create effective treatments tailored for each patient's individual needs. With top-of-the-line equipment such as ultrasound machines and exercise bikes that monitor performance data, Skyview Ranch Physiotherapy has all it takes to ensure your recovery reaches new heights.
The team of certified and registered professionals are dedicated to helping patients reach their goals quickly and safely. Each provider specializes in various techniques, ranging from hands on manual therapies to more specialized modalities such as acupuncture or kinesiotaping.
With a variety of treatment options backed by state-of-the-art resources, you can be sure that you will receive the best possible care available when visiting Skyview Ranch Physiotherapy. By taking advantage of the innovative technology and skilled staff members, you can trust that your recovery will be supported every step of the way so that you can get back doing what you love sooner rather than later!
Range Of Services:
At Skyview Ranch Physiotherapy we offer a comprehensive range of services to meet the needs of every individual. Our manual therapy techniques are tailored to each patient's specific diagnosis and condition in order to reduce pain and maximize function.
Acupuncture is also available for those who wish to use it as part of their treatment plan. We provide sports injury rehabilitation that helps athletes return to peak performance levels with minimal risk or recurrence of injury.
Moreover, our team specializes in posture correction, ergonomics education, exercise prescription and corrective stretching protocols. We understand how hard physical therapy can be on both body and mind, so our therapists strive to create an environment that encourages healing while providing comfort and support throughout the entire process.
Shockwave Therapy, Sports Injuries Physiotherapy, Chinese Acupuncture, Fertility Acupuncture, WCB Physiotherapy, Motor Vehicle Accident Physiotherapy, Chiropractic services, Acupuncture Services, Custom Orthotics etc.
We believe in using evidence-based practice methods combined with compassion and empathy when caring for patients. Our goal is to help you restore your health quickly while teaching you ways to prevent future issues from arising. Through this holistic approach we aim to empower individuals through knowledge so they can reach their full potential without fear of reoccurring problems.
Positive Patient Feedback:
Just as a bridge is the link between two places Skyview Ranch Physiotherapy has provided countless patients with the connection they need to improve their physical well-being. For many of its satisfied customers, this clinic has been more than just a place for healing; it's become an oasis of relaxation and rejuvenation. Skyview Ranch Physiotherapy has more than 350 Google reviews.
Many have experienced improved mobility, increased energy levels, and reduced pain since beginning therapy sessions at Skyview Ranch Physiotherapy.
This testament to the quality of service offered speaks volumes about why people should choose this facility for their physical therapy needs.