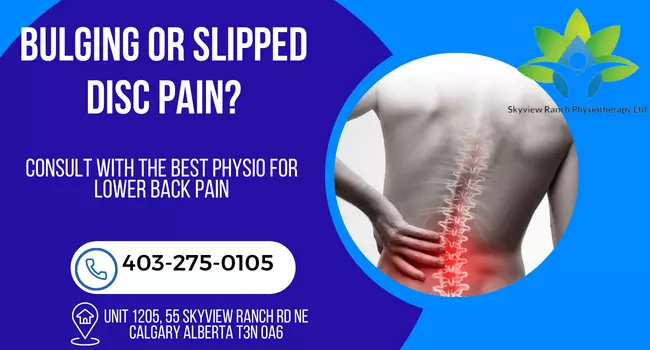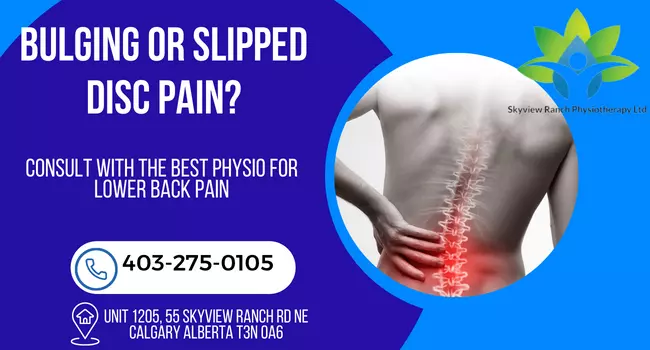 Best Physio For Lower Back Pain ( Bulging Disc & Slipped Disc )
Are you suffering from lower back pain due to a bulging disc or slipped disc and looking for the best physio services in Northeast Calgary? Finding the right physiotherapy clinic for lower back pain in Northeast Calgary can be a challenge, but at Skyview Ranch Physiotherapy we make it easy. Our dedicated team of experienced and professional physiotherapists are all highly trained and have extensive experience in treating a variety of lower back conditions, including bulging discs and slipped discs.
Treatment For Low Back Pain Physiotherapy
Lower back pain is a common condition that involves aches and pains in the lumbar region, which can be caused by many factors such as injury, arthritis, scoliosis, or poor posture. Physiotherapy can provide relief from the symptoms associated with lower back pain by improving flexibility and strength. At Skyview Ranch Physiotherapy we offer a range of treatments to help treat your lower back pain. Our physiotherapists will assess your condition and develop a tailored treatment plan to manage your symptoms and reduce your pain levels. We also work closely with our Medical Team who can refer you for additional imaging tests to ensure that we have identified the source of your problem accurately.
Browse: Physiotherapy for back pain
Why Skyview Ranch Physiotherapy is The Best Physiotherapy For Lower Back Pain?
Our team understands that no two patients are alike when it comes to treating lower back conditions. That's why we take the time to develop a personalized treatment plan for each client that is tailored to their individual needs and goals. This includes one-on-one instruction from our physiotherapist as well as guidance on lifestyle changes that can help improve overall health and wellbeing. Additionally, we will recommend postural corrections if needed, which can help reduce stress on the spine as well as improving posture over time.
At Skyview Ranch Physiotherapy, our treatment protocols involve a comprehensive approach to addressing the underlying causes of lower back pain. We assess each patient using specialized tests and equipment to identify the source of their pain and then create an individualized treatment program designed to reduce symptoms and maximize recovery. Our treatments involve a combination of manual therapy techniques such as massage, joint mobilization, stretching exercises, strengthening exercises, balance training and posture re-education. We are the best physio for lower back pain in NE Calgary.
You may browse: Physiotherapy Clinic Open Sunday Near You 
Techniques We Use To Slipped & Bulging Disc Treatment?
Our goal at Skyview Ranch Physiotherapy is to help you return to normal activity as quickly as possible. We use evidence-based approaches such as manual therapy, exercise prescription and modalities such as heat packs and TENS machines, depending on what's best for your individual needs. During each session we will focus on reducing inflammation and increasing circulation in the affected area which will help aid recovery time. We understand that everyone has different goals when it comes to managing their lower back pain, so our physiotherapists work with you to ensure that you get the best results possible from our treatments.
With us you don't just get treatment; we provide ongoing support throughout the entire process so that you can take charge of your health without worrying about any further complications down the line.  This includes helping you make lifestyle changes such as getting into proper posture habits or taking better care of yourself through sleep routines and healthy eating practices – something that many people overlook when dealing with chronic conditions like lower back pain!
Why To Choose Us?
At Skyview Ranch Physiotherapy NE Calgary clinic, our knowledgeable team strives to be proactive in treating lower back problems before they become complicated or cause more serious issues down the line. We believe in an integrated approach where both physical therapists and medical professionals are involved in managing chronic conditions like lower back pain – something not often seen at other healthcare providers! By working together as one united team we can truly make a difference in how well patients respond to their treatments while also reducing overall costs associated with long-term care plans.
At Skyview Ranch Physiotherapy we believe that no one should have to suffer needlessly from low back pain without seeking professional help. Our goal is to provide top quality care so that our clients feel better quickly and safely return to doing what they enjoy most in life! We are committed to providing exceptional service at Skyview Ranch Physiotherapy so feel free to call us today if you need help finding physio services for lower back pain relief in Northeast Calgary!