Chiropractors That Direct Bill Near Me in NE Calgary – Skyview Ranch Physiotherapy | +1 403-275-0105
Have you been in pain for weeks and can't find a chiropractor near you that accepts your insurance?
Imagine finding direct bill chiropractors in NE Calgary who accept your insurance and will see you the same day. Yes, the same day !!
At Skyview Ranch Physiotherapy, we offer direct bill chiropractic services in NE Calgary so you can focus on healing instead of worrying about how much it's going to cost.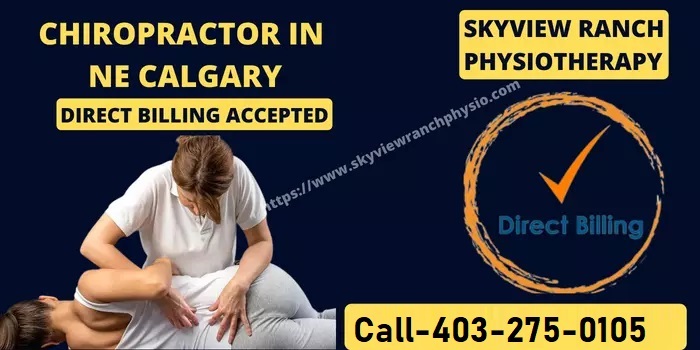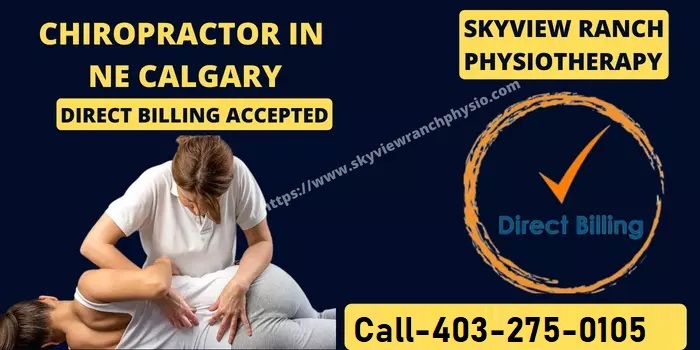 Who is the best chiropractor direct billing near me in NE Calgary?
We are the top and best chiropractor near you in NE Calgary and would be more than happy to help you get the care and treatment related to chiro and physiotherapy. We have over 10 years of experience helping people, and we firmly believe in using a holistic approach to chiropractic care that considers all aspects of your health and well-being. If you're looking for chiropractors that direct bill in NE Calgary who can help you achieve better health and wellness, please don't hesitate to contact us @ Skyview Ranch Physiotherapy Clinic. We would be happy to discuss your specific needs and see if we might be the best chiropractor.
How to find a direct bill chiropractor in NE Calgary?
At Skyview Ranch Physiotherapy Clinic, we offer our patients the convenience of direct billing. You don't have to worry about filing paperwork and dealing with insurance companies. We take care of all of that for you, and your insurance company will directly reimburse the cost of your treatment. This eliminates the need for patients to pay for their treatment upfront and then wait for reimbursement from their insurance company. If you are looking for a chiropractor that offers direct billing in NE Calgary, then all you need to do is come in for your appointment and enjoy the benefits of chiropractic care.
What to expect when you visit a chiropractor who bills directly?
When you visit a chiropractor in NE Calgary ( Skyview Ranch Physiotherapy Clinic ) who bills directly, you can expect to be treated professionally and courteously. We will likely ask about your medical history and perform an examination to determine the cause of your symptoms. Our experts will provide a treatment plan if treatment is recommended and may bill the insurance company directly.
What Are the benefits of chiropractic care, and how can it help you get relief from pain?
If you are suffering from chronic pain, chiropractic care At Skyview Ranch Physiotherapy Clinic in NE Calgary can help to improve your quality of life. Chiropractic physiotherapy is a form of treatment that focuses on the spine's alignment. When your spine is out of alignment, it can cause pain and other health problems. We use various techniques, including manual therapy, massage, and exercise, to realign your spine and neck, which reduces or eliminates your pain.
We may also recommend some basic exercises or stretches that can help to improve your flexibility and range of motion. Chiropractic care is a safe and effective way to manage pain and improve overall health.
What are chiropractic adjustments?
Chiropractic adjustments are the techniques or specific manipulations used by chiropractors to correct alignment problems in the spinal column and improve joint function. We believe that misalignments in the spine can cause health problems in the body. The goal of adjustments is to restore the spine to its natural state of alignment and mobility. By correcting these misalignments, our professional chiropractors can improve the health of their patients.
How do we prepare your Chiropractic treatment Plan?
At Skyview Ranch Physiotherapy clinic, we have a team of experienced chiropractors that direct bill, and we start by taking your detailed medical history and conducting some physical examinations. Then we use this information to create a treatment plan tailored to your specific needs. The treatment plan may include one or more of the following: chiropractic adjustments, exercises, or lifestyle changes.
You may reach us @  Facebook : https://www.facebook.com/SkyviewRanchPhysio
Google: https://g.page/r/CTmpNNdJiWUvEBA