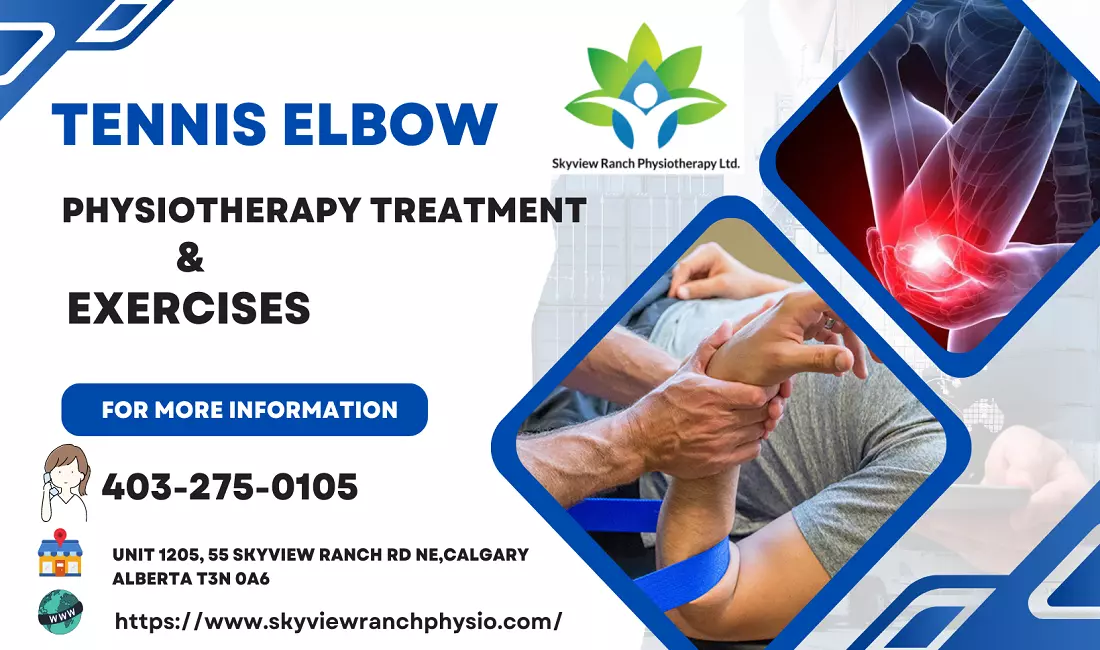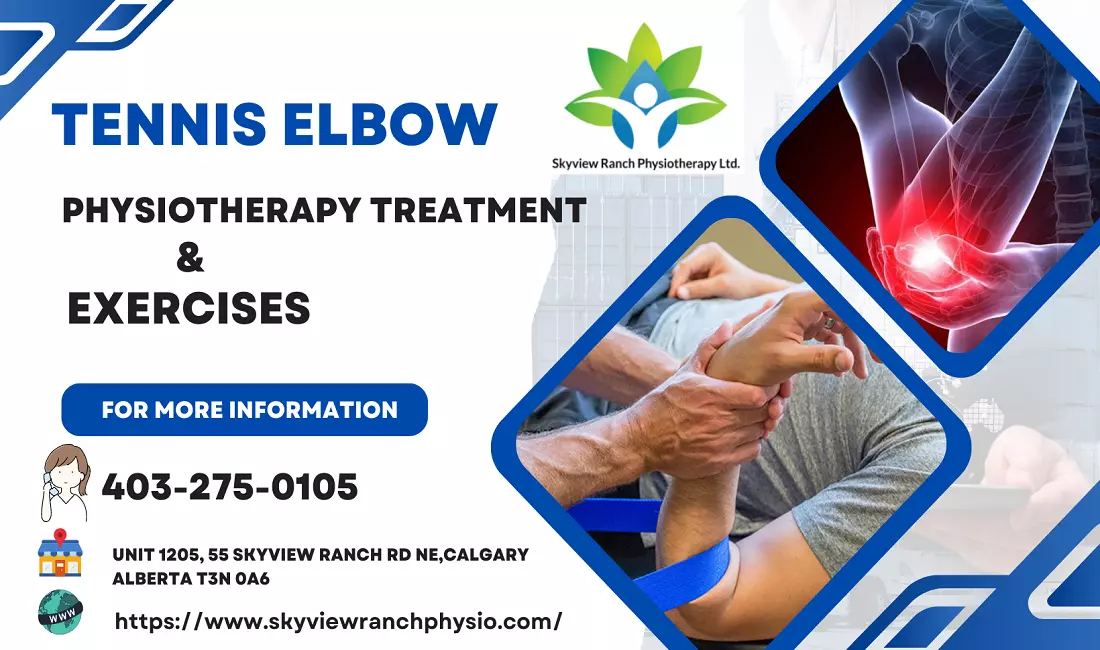 Tennis Elbow Physiotherapy Treatment, Management & Exercises

Tennis elbow is a common injury that affects approximately 1 to 3 percent of the population in the Canada. It is caused by overuse of the muscles and tendons that connect the forearm to the outside of the elbow. This condition can be painful and debilitating, but it can be prevented and managed with effective physio treatment. This article will discuss the importance of physiotherapy for tennis elbow in NE Calgary, including treatments and management methods.
Role of Physiotherapy in Treating Tennis Elbow:
Physiotherapy plays an important role in treating and managing tennis elbow. The goal of physiotherapy is to reduce pain, restore range of motion and strength in the affected arm, as well as to improve overall functional ability. Physiotherapists can work with patients on specific exercises to help strengthen the muscles around the elbow joint and prevent further injury. They may also use manual therapy techniques such as massage or stretching to help reduce pain and improve mobility.
The management plan for tennis elbow should be tailored to each individual patient's needs. A combination of physiotherapy, rest, activity modification, bracing or taping may all be used as part of an effective management plan for this condition.
Browse: Physiotherapy for back pain
What Is Tennis Elbow Injuries?
Tennis elbow is a condition that causes pain and tenderness around the outside of the elbow. It is caused by an overuse injury of tendons located in the forearm muscles which attach to the outside of the elbow. This condition can be experienced by anyone but it is especially common among tennis players due to the repetitive motion involved in playing tennis. Symptoms include pain and tenderness on the outside of the elbow, difficulty gripping objects, difficulty lifting heavy items and pain when lifting or extending the arm.
Tennis elbow can be diagnosed through physical examinations and imaging tests such as x-rays, MRIs or ultrasounds. Treatment for this condition typically involves rest, physical therapy and medication to reduce pain and inflammation. In severe cases, surgery may be needed to repair damaged tissue or remove scar tissue.
What Are Physio Exercises For Tennis Elbow?
The pain of tennis elbow is like a wave that never ceases – it can linger for months, and even years if left untreated. Physiotherapy exercises can help to reduce the intensity of the wave and provide long-term relief. A range of exercises have been developed specifically to target the muscles and tendons around the elbow joint that are affected by tennis elbow. These include: eccentric strengthening, scapular stabilization, stretching and postural correction exercises.
Eccentric strengthening helps to build muscle resilience and strength, while scapular stabilization works to improve shoulder function. Stretching helps to increase flexibility in the muscles surrounding the elbow joint, while postural correction exercises can help to realign posture which may be contributing to the tension in the elbow area.
Read: How to find a Good physiotherapist in NE Calgary
These exercises should be done gradually over time, starting with low intensity movements before increasing difficulty as strength builds. Additionally, correct form should be maintained throughout these exercises as incorrect movement patterns may worsen symptoms or cause further injury. It is important to work with an experienced physiotherapist for tennis elbow in NE Calgary who will provide guidance on proper execution of each exercise in order to get maximum benefit from these activities.
You may browse: Sports Injuries Physiotherapy in Calgary
What Is Tennis Elbow Physiotherapy Management?
Tennis elbow is a condition caused by the overuse of muscles in the forearm and elbow. Physiotherapy management of tennis elbow can help reduce pain and maintain functionality of the joint. The initial treatment should focus on reducing inflammation, restoring range of motion, and strengthening the muscles around the elbow joint.
Therapies used to treat tennis elbow include soft tissue massage, stretching exercises, ultrasound therapy, electrical stimulation, and taping techniques. Soft tissue massage helps release tension in tight muscles which may be causing pain or limiting movement. Stretching exercises are used to increase flexibility in muscles that have become stiff as a result of overuse and can help prevent further injury or flare-ups.
Ultrasound therapy uses sound waves to penetrate deep into muscle tissue to reduce inflammation and promote healing. Electrical stimulation is used to reduce pain by blocking signals sent from the injured area to the brain. Lastly, taping techniques can be useful for providing additional support to the affected area and helping with proprioception (joint position awareness).
Physiotherapists for elbow pain will also provide advice about how to modify activities that may be exacerbating symptoms such as avoiding repetitive movements or using correct technique when performing certain activities. They will also provide education about posture and body mechanics when performing activities that involve repetitive use of the arm or shoulder such as gardening or sports activities. It is important to take a holistic approach when managing tennis elbow which includes not only physiotherapy but also lifestyle modifications such as eating healthy foods and exercising regularly.
Browse : Musculoskeletal Physiotherapy Treatment in NE Calgary
Why We Are The Best Physio For Elbow Pain?
At Skyview Ranch Physiotherapy NE Clinic, we provide the most comprehensive physio management for elbow pain. Our team of experts are highly knowledgeable and experienced in treating various injuries related to tennis elbow, including those caused by overuse of the muscles and tendons in the forearm. With a unique combination of manual therapy and exercises, we can reduce pain, restore range of motion, improve strength, and help patients return to their activities quickly and effectively.
Our treatment plans are tailored to each individual's condition and needs. We also use evidence-based approaches to ensure that our treatments are effective. Additionally, our therapists educate patients on how to prevent future episodes of tennis elbow by incorporating preventive exercises into their daily routines. Furthermore, we provide ongoing support during the recovery process if needed. This comprehensive approach is what makes us truly stand out as the best physio for elbow pain.

Conclusion:
Tennis elbow is an injury to the elbow joint caused by overuse of the muscles in the forearm and wrist. Physiotherapy exercises are an important part of treatment for this condition, as they help to strengthen the muscles and tendons around the elbow joint, reducing pain and improving mobility. Tennis elbow physiotherapy management in NE Calgary may also include stretching, strengthening, massage or manual therapy techniques. It is important to select a physiotherapist with experience in treating tennis elbow injuries to ensure appropriate treatment.
Recent studies have shown that approximately 50-70% of people who receive physiotherapy for tennis elbow report significant improvement in their symptoms within 6-12 weeks. This highlights the importance of seeking professional assistance for tennis elbow injuries as soon as possible.
Furthermore, regular physiotherapy sessions can reduce recovery time and improve long-term outcomes.
Overall, tennis injuries physiotherapy plays an important role in treating tennis elbow injuries. By selecting a qualified physiotherapist with experience in this area of medicine, one can be assured that they will provide safe and effective treatment to help reduce pain and improve function of the affected arm. With timely intervention, most individuals can expect to return to normal activities within 6-12 weeks with improved quality of life.