What Does Shockwave Therapy Do & How Long Does It Take to Work?
Shockwave Physiotherapy is an advanced and painless therapeutic technique that utilizes acoustic sound waves to treat painful conditions and ailments of the musculoskeletal system. This type of therapy is based on principles of transduction, where the force and energy of the sound wave are converted into various forms of physiological responses in order to achieve therapeutic effects.
Shockwave therapy works by delivering high-frequency sound waves directly to damaged tissue, causing new blood vessels, collagen fibers, and other healing components to form at the site. This increased circulation helps to reduce pain levels and helps restore function by accelerating the healing process.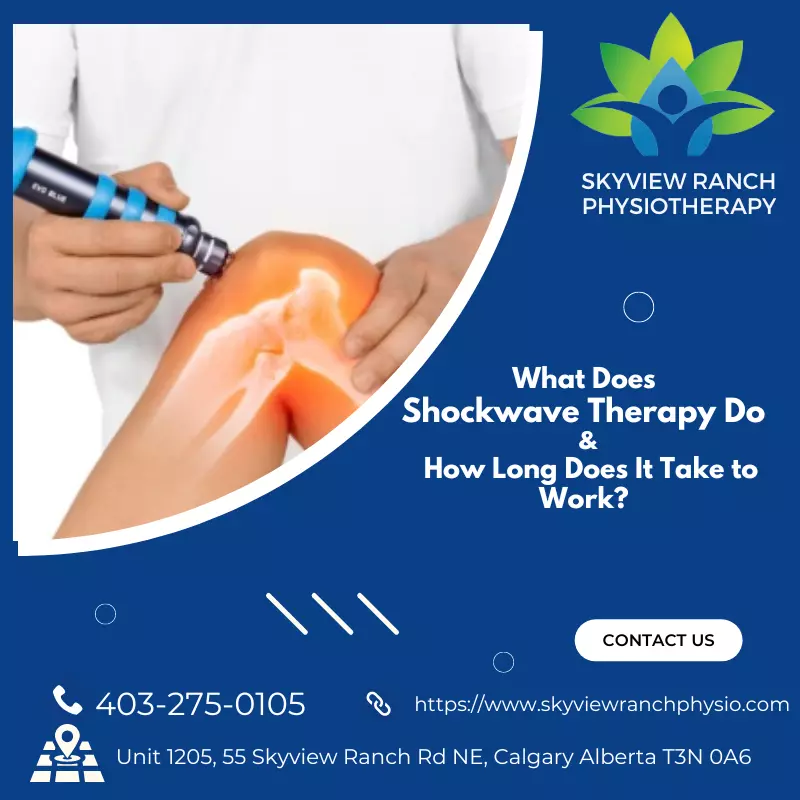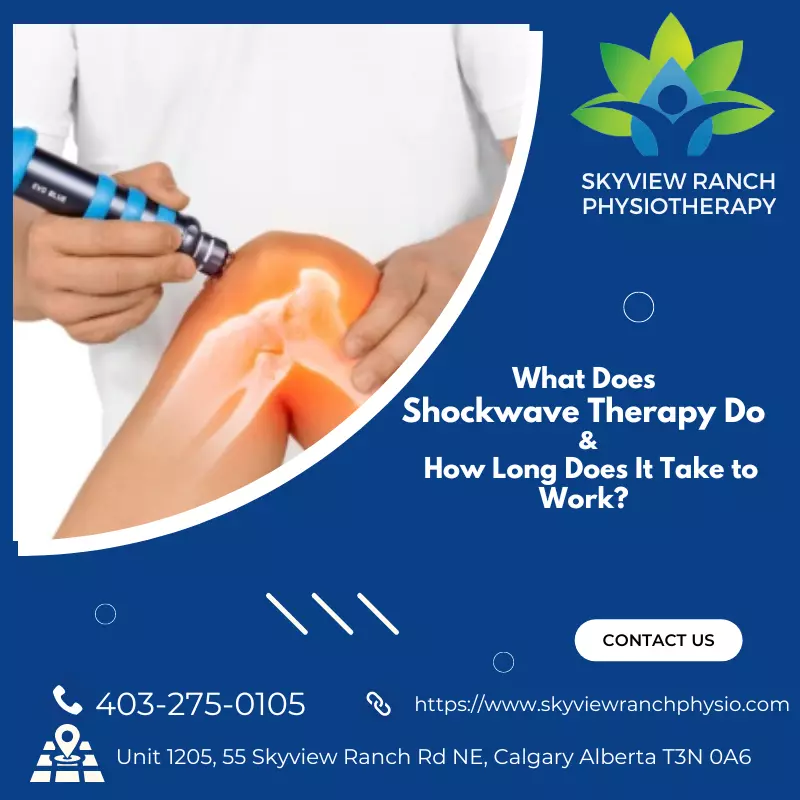 How Long Shockwave Therapy Takes to Work?

Shockwave therapy, a non-invasive physical treatment, has been used to successfully treat acute and chronic pain since 1985. This relatively new treatment has the potential to benefit many people who are suffering from chronic muscle pains, tendon injuries, and plantar fasciitis. The timeframe for shockwave therapy to work varies depending on the condition and severity of the injury or pain.
Generally, its effects start to become visible after #3 weeks, although it may take up to #6 months for new tissue to develop and for the full effects of shockwave therapy to be seen. Patients usually report improved mobility quickly and see further improvements in their condition as time progresses. Those with severe forms of the same conditions usually require more frequent treatments over a longer time to obtain results.
Consequently, an accurate diagnosis must be made before embarking on shockwave therapy so that patients have realistic expectations regarding the time required for this treatment to produce results.
How Long Shockwave Therapy Takes to Work?

Shockwave therapy, an alternative treatment for chronic pain, has been gaining traction recently as a method to help alleviate chronic pain. Despite its relative newness, studies and anecdotal evidence show that it can have lasting effects in managing chronic pain. The effectiveness of shockwave therapy greatly depends on the type of ailment being treated; however, it is generally felt that the therapy produces more positive results for lower backache, neck pain, and some muscle-related ailments than other types of conditions.
Research shows that nearly 83% of those who tried Shockwave therapy saw improvement within eight to twelve weeks. Additionally, there is evidence that the therapy can even help those with conditions like tendinosis, osteoarthritis, and other injuries affecting movement. This revolutionary treatment gives an increasing number of people a chance to experience relief without relying on traditional medications or surgery.
How Long Shockwave Therapy Takes to Work?
Shockwave treatment is an emerging type of physical therapy that aims to reduce pain and discomfort brought upon by various injuries and medical conditions. This procedure involves the delivery of acoustic pulses into the injured area, not unlike a massage.
During this treatment, patients can expect their doctor to apply a topical ointment to the affected area before using a hand held device that generates pressure waves over the injured tissue. These waves stimulate collagen production in the tissue helping it heal faster, while simultaneously offering immediate pain relief to the patient through improved blood flow in that area.
Shockwave treatment is quick and effective, often requiring as little as two sessions to notice results.
Conclusion?
You're in pain, and you don't know what to do. You've tried every treatment possible, but nothing seems to work !!
Skyview Ranch Physiotherapy offers the best shockwave therapy to relieve your pain at the Northeast Calgary clinic. Shockwave therapy is a new technology that uses sound waves to treat injured muscles and tissues. It's been proven to be more effective than other treatments, and it doesn't require any medication or surgery.
Get relief from your pain with the best shockwave therapy in NE Calgary clinic. We can help you regardless of where you live in Calgary. Plus, our friendly staff will make sure you feel comfortable and informed during your treatment.
You may reach us @  Facebook : https://www.facebook.com/SkyviewRanchPhysio
Google: https://g.page/r/CTmpNNdJiWUvEBA