Physiotherapist Deepak Guleria-The Most Experienced & Results Oriented Physiotherapist in NE Calgary
Deepak Guleria is an acclaimed and highly experienced physiotherapist at Skview Ranch Physiotherapy NE Calgary Clinic. He has a wealth of knowledge and experience in the field, having graduated with a Bachelor's degree in Physiotherapy (BPT) from HNB Garhwal University, India in 2007. Later he went on to complete his Master's Degree in Physiotherapy (MPT) with a specialization in musculoskeletal from LPU, India in 2010
Before relocating to Canada in 2014, Deepak worked as a Senior Clinical Physiotherapist for more than five years in India alongside the Ex Physio of the Indian Cricket Team. As such, he is well-versed in many areas of care including;
Work Place Injuries (WCB),

Back Pain, Shoulder Injuries,

Temporo-mandibular (TMJ) Dysfunctions,

Vestibular Rehabilitation Physiotherapy and Concussion-Related Rehabilitation.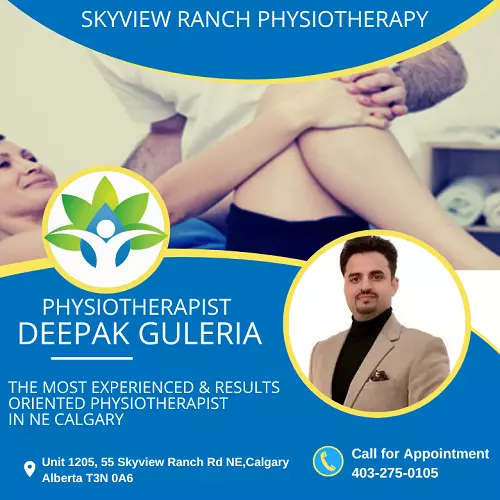 Where Can You Avail His Services?

At Skview Ranch physiotherapy NE Calgary Clinic, Deepak uses his knowledge and expertise to provide exceptional patient care and ensure successful treatment outcomes. He believes that optimal recovery can only be achieved when patients work together with their physiotherapist towards their goals. As such his approach is person-centric; by creating individualized treatment plans that are tailored to each patient's needs.
Deepak Guleria is an avid learner who keeps himself abreast with all the latest developments made in his field so that he can provide best possible treatments to his patients. He makes sure that all patients get optimum results by following post-treatment instructions diligently and staying true to rehabilitation plans prescribed by him. His passion for physiotherapy combined with expertise garnered over years make him one of the best physiotherapists not just in NE area but across Calgary as well!
Read: Why Skyview Ranch Physiotherapy is A Great Choice For Your Physical Therapy Needs
Why Should You See Deepak For Your Physiotherapy Needs? 
His experience extends beyond working with clients for rehabilitation purposes; physiotherapist Deepak Guleria also guides them when it comes to injury prevention strategies so that they can reduce the risk of sustaining similar injuries again later on down the line. His approach combines manual techniques like joint mobilizations, soft tissue release techniques along with neuromuscular reeducation exercises for efficient patient recovery. Furthermore, Physiotherapist Deepak in NE Calgary ensures that his patients are given ample education about home exercises which can help speed up the recovery process and restore mobility within minimal time periods.
With past experiences ranging from treating sports celebrities like the Ex physio of the Indian cricket team to providing quality care at Skview Ranch physiotherapy NE Calgary clinic; it goes without saying that Deepak Guleria is one of best physiotherapists around!
You may reach us @  Facebook : https://www.facebook.com/SkyviewRanchPhysio
Google: https://g.page/r/CTmpNNdJiWUvEBA