#10 Tips to Find Quality MVA Physiotherapy in NE Calgary
If you have been injured in a motor vehicle accident (MVA) in Calgary and are seeking quality physical therapy services nearby, it can be challenging to know where to start. It is important to do research on MVA physiotherapy providers so that you can make an educated decision about who will best meet your needs.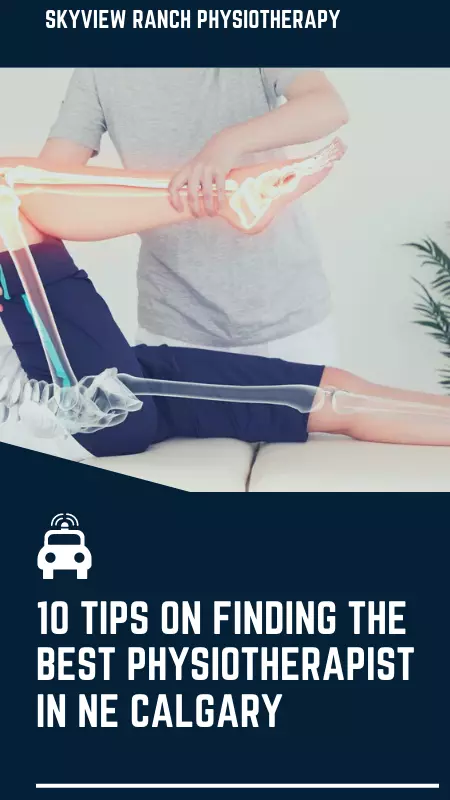 Here are 10 tips for finding good MVA physiotherapy clinic in NE Calgary.
1. Ask Your Doctor for Referrals – Your doctor may be able to provide referrals based on their knowledge of the healthcare industry and the physiotherapists they have worked with before. It's a great place to start!
2. Check Out Local NE Calgary Physiotherapist Websites – Many physiotherapists now have websites which list their qualifications, experience, and services offered. Use this information as part of your assessment process when choosing an MVA physio provider.
3. Research Reviews & Testimonials – Read online reviews from other patients who have used specific MVA physios in Calgary northeast or find testimonials listed on their website or social media accounts. This can help you gain insight into their level of care and customer service.
4. Examine Credentials & Certifications – Make sure that your potential physiotherapist has the necessary credentials and certifications required by law to practice as an MVA physiotherapy clinic in Calgary. The College of Physical Therapists of Alberta maintains a public registry with updated information on all registered physical therapists in Alberta that you can view here.
5. Consider Location & Availability – When selecting your preferred physio clinic it is important to consider location and availability since this will impact how easy it is for you to get there consistently for follow-up appointments or exercises if needed after the initial assessment session.
6. Ask About Treatment Plans & Programs – Different physiotherapists offer different treatment plans depending on the nature of your injury or condition; ask about what type of treatment plan they would suggest based on your individual needs before making your final decision .
7. Understand Insurance Coverage Options – Make sure you understand what type of insurance coverage options are available at each clinic before committing to one particular provider . Most clinics accept a variety of insurance plans so inquire about which ones they take before making any commitments.
Read: Why Skyview Ranch Physiotherapy is A Great Choice For Your Physical Therapy Needs
8. Discuss Payment Options & Fees – Be sure to discuss payment options as well as fees before committing to any particular provider so that there are no surprises once the treatments begin . Most clinics offer flexible payment options such as credit cards, debit cards, cash payments, etc., but make sure that you understand exactly what is expected from you financially.
9. Evaluate Comfort Level & Rapport – When visiting the clinic, pay attention to how comfortable you feel with both the staff and the environment; this will help determine if it is the right fit for you long-term . Also note if there is good rapport between everyone involved; this will make treatments much more enjoyable over time.
10. Inquire About Follow-Up Care & Support Services – Before making a commitment, ask about follow-up care such as additional assessments or treatments if needed later down the line after initial sessions are complete. Additionally, ask about support services such as education seminars or nutrition counseling if these are offered at their clinic as part of treatment programs .
Conclusion:
Finding quality MVA physiotherapy clinic in Calgary doesn't have to be difficult with some research ahead of time! Through asking questions during consultations, researching credentials/certifications online, reading reviews/testimonials from past patients, examining insurance coverage options available at each clinic and evaluating comfort levels/rapport with staff members at each facility – just to name a few – these tips should give anyone looking for an experienced therapist a good starting point when searching for quality MVA physio care in Calgary! Good luck!
You may reach us @  Facebook : https://www.facebook.com/SkyviewRanchPhysio
Google: https://g.page/r/CTmpNNdJiWUvEBA