Physiotherapy Clinic Open Sunday Near You in NE Calgary | Skyview Ranch Physiotherapy
Are you searching for physiotherapy open Sunday in NE Calgary? Skyview Ranch Physiotherapy is the premier physiotherapy clinic in Northeast Calgary and is open on Sundays as well. We specialize in providing high-quality and personalized care to clients of all ages. Our experienced physiotherapists are highly trained, knowledgeable, and passionate about helping you achieve your goals. We offer a wide range of treatments to help treat any condition or injury, from sports injuries to chronic pain. Our facilities are equipped with the latest equipment and technology for an optimal recovery experience.
At Skyview Ranch Physiotherapy, open Sunday, we understand that no two cases are alike, which is why our therapeutic approach is tailored to each client's needs. We strive to develop an effective plan that will best help you reach your desired outcome. As part of this process, we actively listen to your concerns, assess your current condition and develop goals with you in order to create a treatment plan that works for you.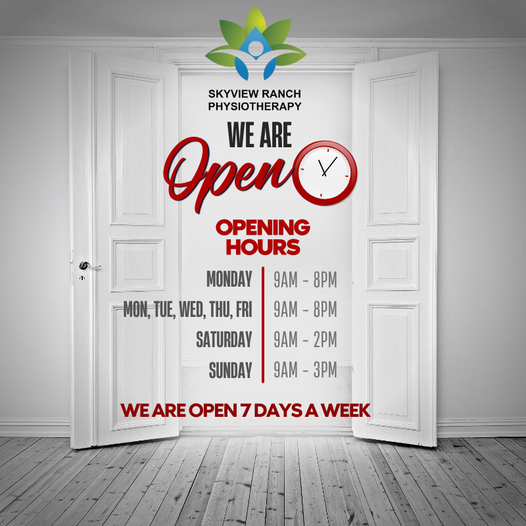 Is Physio Open Sunday Near me in NE Calgary?
Our team of expert physios have access to a variety of techniques and modalities such as manual therapy, active release techniques (ART), soft tissue mobilization (STM), progressive strengthening exercises, ultrasound therapy, and more. Alongside these treatments, we also provide education about proper posture, body mechanics, stretching/flexibility exercises, and lifestyle modifications that can support your success while on the road toward recovery.
We make it our priority at Skyview Ranch Physiotherapy Center- physio open Sunday, to ensure that you receive individualized care from start to finish, with every session being tailored to meet your specific needs. Read About: Musculoskeletal Physiotherapy

Who is The Physio Open Sunday?
Our certified staff also provides exceptional customer service for both new and existing clients within our office hours of 9:00 am -8:00 pm Monday to Friday, Saturday from 9:00 am -2:00 pm as well as Sundays from 9:00 am – 3:00 pm, allowing for maximum convenience when booking appointments around busy schedules or sudden emergencies.
At Skyview Ranch Physiotherapy Center, we pride ourselves on delivering superior services at affordable prices so that each client can enjoy a satisfactory experience during their time spent with us! We are open on weekends as well. Contact us today so our team of professional physiotherapists in Calgary can help get you back on track toward achieving your health-related goals!

You may reach us @  Facebook : https://www.facebook.com/SkyviewRanchPhysio
Google: https://g.page/r/CTmpNNdJiWUvEBA