Physiotherapy Treatments For Ankle Sprained Injury | Skyview Ranch Physiotherapy in NE Calgary +1 403-275-0105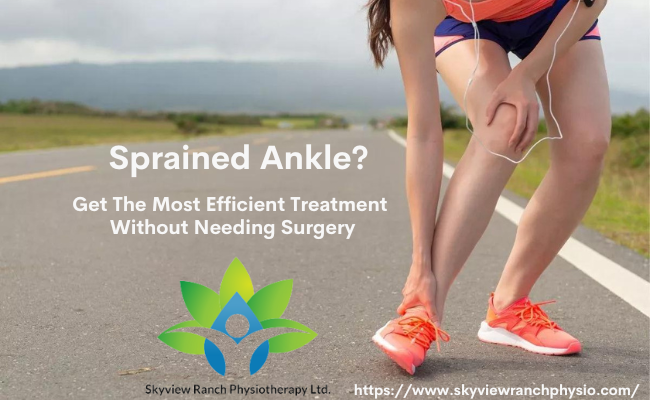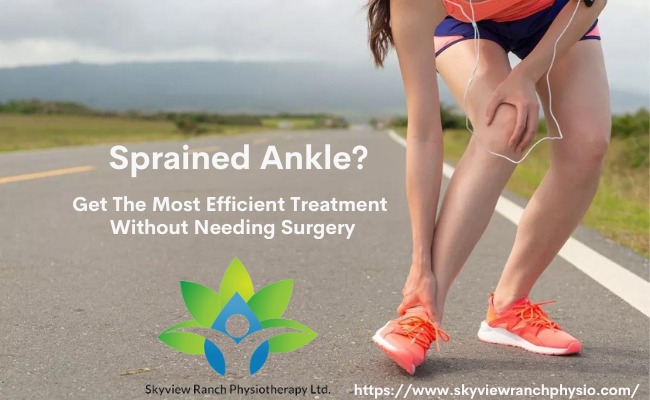 What is Ankle Sprained Injury?
A sprained ankle is a very common injury, especially among athletes. A sprain occurs when the ligaments that support the ankle are stretched beyond their limits and tear. This can result in pain, swelling, bruising, and difficulty bearing weight on the affected ankle. While a sprained ankle may heal on its own with rest and home care, physiotherapy can speed up the healing process and reduce the risk of re-injury.
Browse: Ankle pain physiotherapy

How Skyview Ranch Physiotherapy Can Help in Treating Your Ankle Sprains?
Our physiotherapy treatment for a sprained ankle typically begins with reducing the inflammation. This is done through the use of cold therapy, which can be in the form of ice packs or cryotherapy. Once the inflammation has been reduced, physiotherapy treatments will focus on restoring range of motion and strength to the ankle. This will usually involve a combination of exercises, massage, and electrical stimulation.
Read: Sports Injuries Physiotherapy in Calgary
The final goal of physiotherapy is to help the patient return to their pre-injury level of activity. The benefits of physiotherapy for a sprained ankle go beyond just reducing pain and swelling. At our Physiotherapy Clinic in NE Calgary we can also help to prevent re-injury by strengthening the muscles and ligaments around the ankle. In addition, our physiotherapy treatments can help improve range of motion and flexibility, both of which are important for avoiding re-injury.
For athletes, physiotherapy can also help to improve performance by helping to increase power and agility while reducing recovery time after an injury. 
Conclusion:
If you have suffered a sprained ankle, Skyview Ranch Physiotherapy can help you recover more quickly and reduce your risk of re-injury. Our physiotherapy treatments such as exercises, massage, cold therapy, and electrical stimulation can help to reduce pain and swelling while improving range of motion and strength. If you think physiotherapy might be right for you, talk to our physiotherapist today.
You may reach us through: Facebook, Instagram, Nextdoor, Yelp, Youtube